Steve Spangler blog
Our client Steve Spangler is quite the renaissance man. In addition to being the CEO of a catalog company, he is also a toy inventor, an Emmy award winning television personality, a magician, an educator and a certified professional speaker. Just the sort of person you'd want blogging and podcasting.
The audio podcasts featured on Steve's blog are targeted towards science teachers and include interviews with leading educators and monologues from Steve with helpful teaching tips. The video podcasts, targeted towards both teachers and parents, are some of the most amazing experiments you have ever seen. From exploding pumpkins to flying potatoes and erupting soda bottles, each episode is a hoot!
Functionality on the blog includes email subscriptions to posts and comments, buttons for readers to submit the post to Digg or del.icio.us, tag clouds and tag pages, RSS feeds, a audio podcast player built right into the blog, and more. Read the case study to learn more about this project and some of the results, including the fact that over 13% of their online sales can be attributed to Steve's blog. The company's products, which include science toys and experiment kits, are worked into the blog in a very soft sell way, so the blog doesn't seem like a shill for the ecommerce shop.
[ database | client admin cms | SEO ]
Visit The Site: Steve Spangler Science
For Further Reading: Testimonial, Case Study and Steve Spangler Portfolio
Comments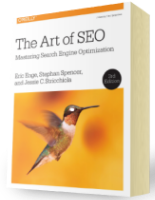 Chapter 7:
Content Marketing
From the fundamentals of link building to the nuances of natural linking patterns, virality, and authority.
Get Free Chapter