Thursday Three: Harrison's harmony, conquering a blank canvas, & gut health hacks
Here's what I found inspirational, challenging, or just downright hilarious this week. What caught your eye?
And, remember to check out this week's great podcast episodes:
"True elite sales professionals develop a dedicated mindset, proactive client interaction, and continuous self-preparation. They understand their client's needs and enable them to ask the right questions."
— Fred Diamond
"When you shift your perspective and choose faith and soul consciousness over fear, you unlock a new lens through which everything in life transforms — the past, the present, and the meaning of your entire journey."
— Rhonda Britten
---

Each member of the Beatles has had a profound impact on culture and art universally, but if I had to choose a favorite, it would have to be George.
George Harrison was a brilliant musician who also stood as a symbol of humility and spirituality. This passionate quest influenced his music and the Western perception of spirituality, emphasizing the role of inner peace in creativity and wellness.
When the world was on lockdown and I was in Israel with my family, I found these words so powerful and inspiring:
"Without going out of my door
I can know all things of earth
Without looking out of my window
I could know the ways of heaven
The farther one travels
The less one knows
The less one really knows."
~ George Harrison, "The Inner Light"

Staring down a blank canvas or an open road can lead to "Blank Canvas Paralysis," a common dilemma faced not only by artists, but also by retirees, new grads, or nomads embarking on an uncharted journey. If you've ever stared at a blank screen or turned a new page in your life with no roadmap and felt this pain, you are not alone.
This paralysis stems from three sources: Too many options, uncertainty of where to start, and fear of failure.
Overwhelmed by an abundance of possibilities? The key is to make a choice, knowing you can always adjust course later.
Stumped on where to begin? Follow painter Richard Diebenkorn's advice and just start with a few arbitrary marks.
Worried about failing? Remember, not starting because of fear is already a failure. Embrace the journey with humility and bravery, because, as Thomas Bailey Aldrich wisely put it, "They fail, and they alone, who have not striven." So, strive on!

Ready for a gut check? Here's an intriguing fact: Your workout routine could be shaping more than your waistline — it might be revolutionizing your gut health too.
Research suggests exercise might be a game-changer for our microbiota — the trillions of bacteria, viruses, and fungi thriving within us. Studies reveal that our lifestyle choices, including diet, stress, and yes, exercise, can shape these tiny inhabitants for the better.
The exciting possibilities of this research show that moderate to vigorous exercise, such as running or cycling, could diversify gut bacteria, which is linked to better physical and mental health.
So, dust off those sneakers and put on your favorite workout playlist. Your gut will thank you!
---
Which of the three posts resonated the most with you this week? Let me know! I'd love to hear what inspired, challenged, or intrigued you.

P.S. If you live the creative life, or you're tempted to follow your passion to see where it might lead, this is an inspirational and delightful talk I had recently with Dennis Scott on Get Yourself Optimized.
Comments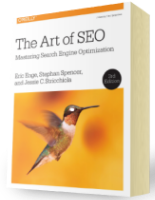 Chapter 7:
Content Marketing
From the fundamentals of link building to the nuances of natural linking patterns, virality, and authority.
Get Free Chapter