What You'll Learn In This Chapter
Guidelines and innovative techniques that will help you
plan and execute a comprehensive SEO strategy.

The ins and outs of Google's PageRank algorithm and everything you need to do and avoid (hint..black hat SEO techniques won't work here anymore)

How search engines determine the value of a link- because all links are not considered equal!

How to create content that performs well in search engines, converts, AND attracts links
Topics

Link Building 101
Delve into the anatomy of link building: what works, what doesn't, and how to avoid negatively triggering search engine algorithms.

Creating Share-worthy Content
Why does viral content go viral? Learn the perfect formula for creating content that people will want to share.

Leverage Tools for Content Reach
Creating quality content is just the beginning of the process. Tools like Twitter, Facebook, Instagram, Wikipedia, and more can help you push your content to the masses- when you're using them properly. We'll teach you how to get the most out of your content in
this chapter.

Relationships & Outreach
Once you've learned the basics of creating phenomenal content and Google's link algorithms, we'll walk you through the final step of link building- how to build relationships with influencers and other publishers to create high quality backlinks.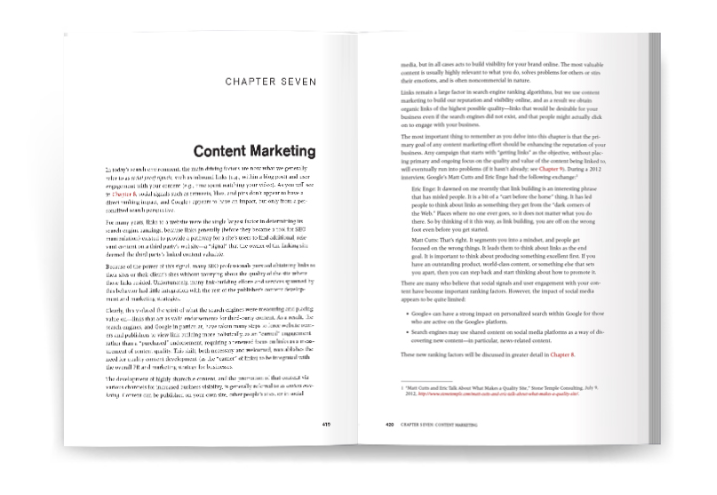 About The Free Chapter
A professional, high quality Content Strategy is only as good as its ability to attract links and traffic. If your company is going to succeed in today's online economy, understanding how to incorporate high level SEO into your content marketing plan is essential.
In this free chapter of the Art of SEO, three of the most noted experts in the field of search engine optimization provide you with proven guidelines and cutting-edge techniques for planning and executing a comprehensive content marketing strategy.
The authors clearly explain content marketing fundamentals from an SEO angle, including how to obtain quality backlinks (and avoid low quality links that google will ping), creating quality content that will be shared, and how to use social media and other marketing tools to create link building authority.

About Co-author Stephan Spencer
Stephan Spencer is a 3-time author, avid blogger, international speaker, and consultant on all things SEO. Over the course of his 20+ year career, he founded his own SEO agency and even created a unique pay-for-performance SEO technology.
Stephan loves to share his wisdom and expertise with others, especially on his two weekly podcasts Marketing Speak and Get Yourself Optimized.
Praise for The Art of SEO
There are more people than ever running online businesses using the internet because many of us are stuck at home, and navigating an online business can be tricky today because of these ever-changing algorithms and SEO. You never know what's going to happen, and it's possible to navigate it on your own.
But why take on that stress? I didn't. That's why I work with a guy named Stephan Spencer, who essentially wrote the books, actually three of them on SEO. He's an internationally recognized SEO expert and bestselling author of Google Power Search and the Art of SEO. In addition to hacking SEO, Stephan spent a lot of time hacking himself, just like I have.
Read More

Dave Asprey
Author of The Bulletproof Diet and creator of Bulletproof Coffee
The first thing I wanted to point out was how technical he was, his technical ability, how cutting edge some of the concepts he brought to the table were, the observations that he had. We were facing a lot of technical challenges at the time, and he was really efficient in diagnosing those problems, pointing those out, and giving us a clear path to remedy those problems.
Read More

Ash Salleh
(former) SEO Lead, Zappos