Case Study: Steve Spangler Science
Steve Spangler is what we would call a "Renaissance man." He's a television personality, a keynote speaker, an entrepreneur, an educator, and a cataloger. Steve's conference presentations are captivating; he has a great shtick and an amazing bag of tricks that wow audiences. It is almost like witnessing David Copperfield running a science fair. He carries this over well to TV through his "Science Experiment of the Week" spot on 9 News in Denver, Colorado.
Problem:
Although Steve Spangler has this great persona in the offline world, it wasn't translating very well to the online world.
"Our ecommerce site was terrible. No, it was worse than that. The website was abysmal," says Steve. "I was getting one million viewers a week on TV but I was ashamed to send people to our site. After a first re-design (by another company) there will still problems. They knew nothing about SEO or how to translate the Wow Factor into sales. They could make a site that was aesthetically pleasing but they didn't know how to wrestle the credit cards out of people's wallets."
After researching the problem Steve discovered Netconcepts and began a dialogue that continues to this day.
Solution:
The engagement with Netconcepts began with a website audit. We evaluated their existing site and made a whole raft of recommendations on how to improve it or do it better, as far as usability, functionality, search engine visibility, and making the site stickier. All of this had the goal of changing the site so that people will want to return to it again and again.
Steve Spangler Science liked the audit so much they asked us to implement our recommendations through a site re-design which we did, vastly improving the functionality of their ecommerce shopping cart site, and getting every page into Google. The whole site was re-built from the ground up to be search engine optimal.
Steve comments: "Netconcepts taught us to do things differently, to think differently about our web content and to write differently. I realized I was searching for the wrong thing. I had to learn to see the invisible stuff behind the web pages that make them rank well in the search engines. I had to stop thinking like a cataloger and instead draw upon my TV skills from the Four O'Clock News, I had to grab someone's attention and keep them from clicking off to another site and Netconcepts helped me realize this".
We also wanted to convey how entertaining Steve was. We did that through installing fun product demonstration video clips on the site and then later through suggesting Steve start a blog. We helped Steve through the whole blogging process: evaluating blogging software, designing the look-and-feel, and training Steve on how to write for blogs.
"The blog came about when I came to Netconcepts with an idea for a site re-design and they replied with the blog concept. What's more, their concept was going to cost one-third less and be more effective than my original idea. I thought this honest, collaborative approach was great and in retrospect the blog was the right next thing to do. It gave our site more punch. Now it will become the cornerstone of my new speaker website."
Netconcepts also assisted with email marketing: email strategy, with template creation, delivery and tracking, ensuring the goals of increasing visibility and usability were adhered to at each step.
Results:
Steve Spangler's ecommerce site has grown in the past 18 months with revenue increasing three figures to mid five-figures a month..
Steve's blog, although relatively new as of this year has already achieved a PageRank score on a par with his ecommerce site.
"A detailed analysis of our print catalog marketing plan revealed a direct correlation between catalog distribution and increased web traffic. However, a survey of our top customers revealed that they turned to our website to get MORE information on a product that interested them. Our high-content website not only answered their questions but prompted them to buy additional products that "grabbed" their attention."
"Together we worked to make a very successful arm of my business. I am a tough client and I don't have a six-figure annual web budget. Why did I agree to publish information in this case study? Am I concerned about our competitors getting a hold of it? Sure. But I have trust in Netconcepts to protect our innovative ideas and creative marketing strategies. Anyone can hire a web design company to "open up shop" on the internet. But just because a store is open doesn't mean that anyone is shopping or buying. Netconcepts taught us how to turn shoppers into buyers and the key is have creative ideas, to think differently and to be innovative. It's easy for our competitors to imitate (and we see it every day), but the real secret to internet marketing is to innovate. That's why our competitors will always be 8 month behind. Thanks Netconcepts." – Steve Spangler
(Also be sure to check out Steve's testimonial for Netconcepts)
Comments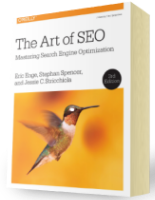 Chapter 7:
Content Marketing
From the fundamentals of link building to the nuances of natural linking patterns, virality, and authority.
Get Free Chapter