Orders increasing, search engine rankings soaring, science company takes off
"DO NOT use Netconcepts unless you want to significantly increase your orders, watch your search engine rankings soar, or work with a team of experienced professionals who truly understand what it takes to market and sell your products on the web.
We could not be more pleased with the incredible service and marketing value Netconcepts brought to our company. I highly recommend the Netconcepts audit as it provided us with an excellent working document. Their recommendations provided a blueprint for the design and implementation of our website and continues to serve as a document that I frequently reference as the basis of our internet marketing plan. I would need to hire another full-time person just to implement all of their suggestions. The audit exposed our weaknesses and provided us with valuable recommendations to achieve our desired goal – to increase our web sales!
Above everything else, I am most pleased with the people behind Netconcepts. Throughout the entire project, promises were kept and expectations were exceeded. CEO Jody Hartwig and her team listened to our every concern and went out of their way to implement our ideas. Throughout the entire project, their advice was right on target.
Here's the bottom line – we finally found an internet design company who places value on marketing instead of website eye-candy. Our site just launched three weeks ago and we are already seeing an increase in traffic and search engine ranking. We can only hope that our competitors never uncover the marketing weapon we have in Netconcepts. Shhhh!"
Steve Spangler
CEO and Founder
Steve Spangler Science
Comments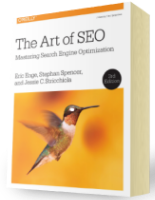 Chapter 7:
Content Marketing
From the fundamentals of link building to the nuances of natural linking patterns, virality, and authority.
Get Free Chapter