Case Study: TRUSTcite
TRUSTcite is a social networking community for service providers. More importantly, it is a search engine for finding service providers that you can trust, because they have been endorsed by people you trust. Service providers can list their services and skills and profile themselves. Unlike other competing directories, a TRUSTcite listing is based on the individual rather than the company.
Problem:
TRUSTcite is a self-funded start-up that came to Netconcepts without having an online presence at all. They needed more than just a web developer. They needed guidance with their online strategy and with how they could differentiate themselves in the market. Their processes weren't defined. Their functionality wasn't defined. Their key differentiators weren't all defined. And how they would market themselves online wasn't defined either. They were looking or a partner to rise to the occasion: not just spend their money by building them a website, but to really think through what would make their business successful.
Netconcepts were mindful that the funding for the website was coming out of the founder's savings, so we stretched every dollar.
It couldn't just be a good website that worked. It had to be an exceptional website. We believe that by incorporating some of the latest Web 2.0 technologies into the site in such a way that was a showcase for Web 2.0 'done right', we could gain additional visibility for them.
Solution:
The solution that Netconcepts came up with was a sophisticated yet intuitive Web 2.0 application and website leveraging the power of XHTML, CSS, JavaScript, AJAX, PHP and MySQL. Some of the core concepts of this Web 2.0 website included leveraging the social networking aspects of the site, making it easy to build a network of referral sources and recommenders and make it easy for visitors to find and compare service providers based on referrals and recommendations from business people and past clients. Ranked search results are based on peer reviews and user feedback. Another founding principal of the site is the KISS principle: keep unimportant information/content hidden but still accessible. Search is the most important feature so it was important to keep that prominent and simple with smart top navigation separation and simple home page search.
Users have almost full control of what they can put in their profile: images, bold titles, lists, contact details and so on, ranging from simple and well structured with image, or simple with no images.
Web standards are mandatory, making the web better for everyone. Accessibility is not just for the blind. Web standards and best practice make for easily indexed pages. Semantic markup is a search engine's favorite thing!
Starting with a basic working version of the site that works without JavaScript, we built on to that base from there, employing JavaScript to add to the user experience. For example, "progressive enhancement" was used to allow the site to display on less visually rich platforms such as cell phones and PDAs. On the home page, JavaScript was used to — in a search engine friendly way — make the full category list initially hidden but available with one click without reloading the page.
Results:
It is still early days, but several thousand pages of the site have been indexed in Google, and good media coverage has been obtained for the site in the New Zealand Herald. With no advertising to the general public and limited advertising within the B2B media, visitor numbers have grown four-fold, comparing May to October. What is more important, a growing number of visitors are returning to the site and are directing their clients to the site also.
Hannah Samuel, founder of TRUSTcite says:
"I approached Netconcepts regarding the development of TRUSTcite as I knew they were experts in the field of search engine optimisation (SEO) and had extensive experience in website development. However, what was more important to me initially was their e-commerce consultancy service which proved to be vital to the success of developing and launching TRUSTcite. Much like a pattern-maker, Netconcepts took my sometimes abstract, 2-dimensional ideas, and developed the patterns out of which the 'fabric' of TRUSTcite was created. It was amazing to see the concept become reality following ongoing discussion and recommendation.

As a new venture, it was vitally important that clear outcomes and costs were identified and monitored. This is something I found Netconcepts to be excellent at and I can't recommend highly enough how well managed the whole project was. I certainly look forward to a continuing relationship with Netconcepts as they are truly excellent designers, developers, project managers, e-commerce advisors and all round neat people!"
Comments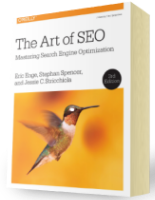 Chapter 7:
Content Marketing
From the fundamentals of link building to the nuances of natural linking patterns, virality, and authority.
Get Free Chapter