Interview with A-list blogger Toby Bloomberg
A-list blogger Toby Bloomberg is a leading light when it comes to business blog and social media strategy. Her popular Diva Marketing Blog is both an insightful marketing resource and a fun read. Through her company, Bloomberg Marketing, where she is president, Toby helps clients develop integrated marketing plans that utilize interactive tactics such as blogs, podcasts, video, and social media. Stephan Spencer, Netconcepts' founder and president, had the pleasure of interviewing good friend Toby recently via email. Here's what Toby had to say about blogs, social media, and more…
The podcast of this interview is now available.
1. There is a lot of commentary in the blogosphere about what a company can do with a blog. They can build relationships with their constituents, put a face to the company and appear more human, build up a network of relationships with influencers, etc. etc. What would be some examples of really innovative things that companies have done with blogs? Feel free to include examples that you have worked on personally.

This is a great time to jump into the world of social media. Although the culture of social media dictates the ground rules: honesty, transparency and authenticity the rest is up to you. Who would have thought that publicly writing a book in the middle of a fish blog bowl would result not in stolen ideas but in a more powerful book? http://redcouch.typepad.com/weblog/

(Blogger disclosure: Iâ??m profiled in the chapter, Consultants Who Get It)

Or how about involving the readers of a blog to help design its look and feel? The skin of my blog, Diva Marketing, was created â??on-blog.â?? Peter Flaschner, The Blog Studio, and I posted comps and asked our readers for feedback. The end result was a look and feel that was influenced by the people who felt that they had a vested interest in the blog.

Multiple author blogs are not unusual but two companies are putting a different spin on the idea. Mayfield Dairyâ??s blog includes people from Scotty Mayfield, the CEO to Jan Montgomery, an administrator assistant. GourmetStationâ??s blog Delicious Destinations also includes several bloggers; however, the authors are not employees. These guest bloggers are a wine consultant, owner of a Tuscan B&B, a customer who loves to travel and a British butler. Each writes about a subject that is â??on topicâ?? with the focus of the blog: to provide entertaining information on food, gift giving, entertaining and culture.

(Blogger disclosure: Mayfield Dairy and GourmetStation are clients)

Not a blog but a podcast. MOMASF will give you $2 off the admission price if you download its â??ArtCastsâ??(podcast) on to your MP3 player. Now that is innovation that drops directly to the bottomline!

2. From a marketerâ??s perspective, where do social networking sites fit into the picture? What sites are important from a marketing perspective and how do you suggest a company get involved in those communities?

I see social networking sites, or communities that are â??mashed-upâ?? with functionality for online idea exchange, as the immediate future of online mass interaction. Not unlike data mining consumer generated media, from a marketerâ??s perspective, identifying niche communities should be part of a marketerâ??s listening and learning strategy for new ideas and concerns of a targeted segment.

However, unlike pulling data from all over the internet, the conversations are usually focused on the specific niche topics. If a company sponsors/owns a social networking community the CGM data can be overlaid with member profiles providing exceptionally rich informal customer feedback … a peek into trends, product/service usage, and testing new concepts.

Even if marketers donâ??t participate actively, dropping by the â??old standbysâ?? like MySpace, Facebook, Flickr and YouTube should be part of an intelligence strategy. Iâ??d also suggest identifying a couple of communities within niches of interest, as well as, keeping an eye on three D communities like Second Life.

More frequently I find that Iâ??m asked how to find social networking communities. Itâ??s more than a challenge to locate them. There seems to be a great opportunity for a new type of search engine that will track and index these new communities.

3. What should a company commit resource-wise to blogging and to social networks? What sort of activities, the hours per week required, and what sort of budget? Presumably some of it will be done internally and some of it will be outsourced. What do you recommend outsourcing? And what do you recommend keeping in house?

This question begs for the â??marketing responseâ?? â?? It depends. It depends on your companyâ??s social media strategy goals and objectives. It depends on your companyâ??s financial status. It depends on your companyâ??s human resources.

Unless youâ??re building a complex social networking community, the fiduciary investment is affordable for any business. Blog platforms range from free to several thousand dollars including setup and graphic design.

Where the investment becomes more substantial is in human resources. The time it takes to maintain a blog is a function of the goals and objectives. For example, if your ambition is to be the Go To Place for an industry that changes frequently, such as high tech, posting short clips 10 times a day might not be unreasonable. However, if your end game is to be positioned as a thought leader, a couple of longer posts a week might be sufficient to achieve your outcome.

Once marketers began to understand that blogs could support strategic objects through conversations and value-added content concepts for business blogs exploded: character blogs, event blogs, CEO blogs, topic blogs. â??Traditionalâ?? blogs that provide customers with a better understanding of a company or humanizing the organization, as well as blogs that focus on customer or tech information should be written by a people involved with the organization, typically employees. Take a look at Bill Marriottâ??s blog for an example or a CEO blog that is humanizing a Fortune 500 corporation.

However, blogs that concentrate on only a â??topicâ?? could be out sourced if there were not internal people resources to dedicate to the initiative. Freight & Shipping is an example of a blog that focuses on providing content about shipping but doesnâ??t offer insights into the organization. The goal is not to create community but to leverage the blog as a search optimization tactic while still providing customers with information about shipping and the companyâ??s services.

Other services that can be easily out sourced include monitoring the conversation of consumer generated media and developing blogger relations programs.

4. I don't think it is in dispute that bloggers are influencers / connectors / mavens / sneezers. Whatever we want to call them, they are really important people for a marketer to reach. What would be some clever 'outside-the-square' sort of ways of reaching these bloggers?

Social media is a different philosophy from that of traditional media. Bloggers, unlike reporters, do not want to be â??pitchedâ?? â?¦ they want to be part of an on-going collaboration or partnership. To engage successfully with bloggers entails more than a tradition main stream media release.

Instead of sending random emails (that may or may not ever see the light of a post) to hundreds of bloggers I suggest developing a blogger relations program. It may be more labor intensive than a mail blast or even a Web 2.0 media release that includes photos, links and video. However, if you identify blogggers who write and care about your niche and involve them in an on-going relationship you create win-win-win situations. Win for the blogger. Win for the blogger's readers. Win for you/your company/your clients.

5. You are a strong proponent of blogging as a marketing activity and, of course, you practice what you preach using your blog to help soft sell your own marketing consultancy. How has that worked out for you? What were some of the biggest lessons along the way? Any mistakes that you learned from along the way as well?

My blog has become my most significant marketing strategy. High search rankings on key words like marketing blog, have resulted in new clients, speaking engagements, interviews with main stream media and opportunities to partner with people that I would never have met if it were not for blogging. I have been quoted in BusinessWeek Online, Wall Street Journal, Inc and other business publications. One might say that blogging has brought me my 15-minutes of fame. In addition the global relationships and friendships (yes real friendships!) developed through/because of Diva Marketing Blog have been invaluable and most I could not have made any other way than through social media interactions.

Iâ??ve learned the world of social media does not stand still for even a nano second. That there are new widgets, gadgets and people coming on the scene daily. Iâ??ve seen that itâ??s possible for a new blogger, who understands how to play the game, to catapult to a highly visible position and build traffic through community linking.

Iâ??ve learned that blogging can be more time consuming that anticipated especially if you donâ??t have a plan. Blogs are hungry beats that demand constant attention.

Iâ??ve learned that if bloggers don't like what you're up to they will let knowâ?¦ well not you personally … but the world at-large. The GourmetStation character blog was considered edgy and advent guard at the time of its launch in 2005. The business blogosphere flames threw us a curve ball; however we knew the strategy was right for the brand. We consistently demonstrated honesty, transparency and persistence and eventually even our eventually admitted that we were right in our approach.

Iâ??ve learned that blogging is the ultimate in relationship marketing and by the way itâ??s fun!
Comments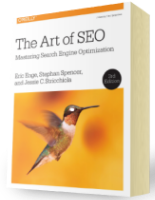 Chapter 7:
Content Marketing
From the fundamentals of link building to the nuances of natural linking patterns, virality, and authority.
Get Free Chapter