Interview with A-list blogger Toby Bloomberg
A-list blogger Toby Bloomberg is a leading light when it comes to business blog and social media strategy. Her popular Diva Marketing Blog is both an insightful marketing resource and a fun read. Through her company, Bloomberg Marketing, where she is president, Toby helps clients develop integrated marketing plans that utilize interactive tactics such as blogs, podcasts, video, and social media. Stephan Spencer, Netconceptsâ?? founder and president, had the pleasure of recently interviewing good friend Toby.
Listen to this 23 minute podcast, and hear what Toby had to say about blogs, social media strategy, and moreâ?¦
Comments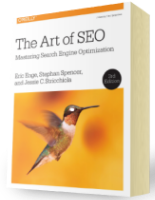 Chapter 7:
Content Marketing
From the fundamentals of link building to the nuances of natural linking patterns, virality, and authority.
Get Free Chapter