Online retailers doing wikis?
In the past I've made the case for using wikis for online marketing.
Perusing Amazon.com recently I saw that there were already over 7500 product wikis contributed by Amazon customers. Cool! (Unfortunately not a single one of their wikis is indexed in Google because of the search engine unfriendly way they've implemented wikis on their site. Indeed, I couldn't even find a way to link to their wikis from here, because links like this one expire and stop working after a while.)
It made me wonder how many other e-commerce sites were embracing wikis as a way to augment their product information and encourage customer participation in the site. I??haven't heard of any other online retailers doing this.
Know of any etailers experimenting with wikis?
There is the ShopWiki website, which is not an online retailer but a site targeted to online retail. ShopWiki was founded by Kevin Ryan and Dwight Merriman (DoubleClick's former CEO and former CTO, respectively). There is some good stuff in ShopWiki. For example, if you are looking to buy a compound bow, there is great buying guide as well as an explanation of how a compound bow works, type of material used in its manufacture, etc. (Unfortunately, like with Amazon's wikis, ShopWiki's wikis — including their buying guide on the compound bow — aren't making it into Google. Fewer than 72 wiki pages are indexed).
Not strictly an online retail wiki, yet it overlaps partially with the ShopWiki is wikiHow, a how-to manual launched by the dotcom eHow. I am unclear why eHow started a separate wiki rather than folding it into eHow.com. I think they should have just opened up their eHow site for user contributions.
I think a wiki is especially suited to applications such as buyers guides, encyclopedias, glossaries, manuals, travel guides, etc when you want to elicit user contributions without making visible a lot of back-and-forth discussion. The real value is in the final product, not in the discussion that got to that point. That is where a wiki really shines.
Comments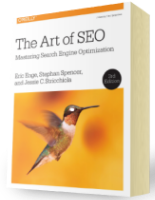 Chapter 7:
Content Marketing
From the fundamentals of link building to the nuances of natural linking patterns, virality, and authority.
Get Free Chapter