News Release: SEO Title Tag Plugin
Agency Contact: Bill Arnovich
Misukanis & Odden
[email protected]
952.400.0342
For Immediate Release
BETA VERSION OF WORDPRESS SEO TITLE TAG PLUGIN MADE GENERALLY AVAILABLE TODAY BY NATURAL SEARCH ENGINE FIRM, NETCONCEPTS
SEO Title Tag Plugin Version 2.0 is Available in Beta and Absolutely Free to all Who Wish to Easily Optimize Title Tags across a WordPress Blog
NEW YORK â?? April 10, 2007 â?? www.netconcepts.com â?? Netconcepts®, LLC., the premier natural search firm enabling a leading tier of the top 200 Internet Retailers to â??get foundâ?? online, today announced the general availability of its SEO Title Tag 2.0 beta version plugin.
Download the freeware WordPress SEO Title Tag plugin today and help your WordPress powered blog or Website avoid Googleâ??s dreaded Supplemental Index by assigning every URL its own unique tag.
â??Title tags are arguably the most important of the on-page factors for search engine optimization (SEO),â?? said Stephan Spencer, NetConcepts president. â??Netconcepts is proud to have developed the SEO Title Tag 2.0 WordPress plugin as an open source solution.â??
The plugin makes it dead easy to optimize title tags across a WordPress powered blog or website. Not just posts, not just home pages, but any and every title tag on the site.
Ultimately the plugin enables more traffic to be driven to the site because it:
Shows the search engine a unique title for each page
Decouples post titles from title tags, and
Helps prevents routing to the â??Supplemental Indexâ?? in Google
SEO Title Tag Plugin capabilities include:
Custom title tag override of pages and posts
Mass title tag editing of all posts, static pages, category pages, tag pages, tag conjunction pages, archive by month pages and any URL
404 error title tag definition capability
Title tags for internal search results
Custom title tags on tag pages, and on tag conjunction pages when used with Ultimate Tag Warrior
Online comments about the free SEO Title Tag plugin include:
â??Great plugin! I had used a large custom tag script to do this before.â??
â??Thank you for sharing for a wonderful WordPress SEO-Title-Tag plugin, this is truly the most easy and effective way for creating a better title for the homepage and post.â??
Download and test the freeware WordPress SEO Title Tag plugin yourself.
***
About Netconcepts, LLC
Netconcepts®, LLC, is committed to arming top Internet retailers with online strategies and technology platforms designed to increase online sales. With proprietary technology and processes including GravityStreamâ?¢ and GravityMarketâ?¢, online retailers will â??get foundâ?? on the search engines. Online retailers succeeding with the aid of NetConcepts, include Discovery Communications, Northern Tool, Home Shopping Network, Kohlâ??s Department Stores, REI, and Cabelaâ??s among other brands. NetConcepts is based in Madison Wisconsin with a production facility in Auckland, New Zealand.
###
Comments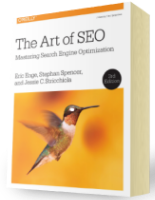 Chapter 7:
Content Marketing
From the fundamentals of link building to the nuances of natural linking patterns, virality, and authority.
Get Free Chapter