News Release: Credit Demystified
Contact: Boone Sesvold, Marketing Coordinator
[email protected]
608-285-6600 ext. 109
1-888-207-1109 Toll Free
For Immediate Release
Fortune 500 Company Adopts WordPress To Answer Credit Questions
Countrywide's CreditDemystified.com Isn't a Blog, or Is It?
MADISON, WI (Janaury 17, 2007) Web development companies are increasingly recognizing the potential of WordPress as a content management system (CMS). CreditDemystified.com, an educational site developed for Countrywide Home Loans, illustrates how a corporate microsite can successfully be adapted to the blog platform.
The microsite, developed by Netconcepts, is designed to help visitors become credit savvy by providing simple answers to credit questions. Although the microsite's platform is WordPress, CreditDemystified.com is far from a traditional blog.
Countrywide Home Loans chose to work with Netconcepts because of the company's experience developing search engine optimal sites (SEO).
"The SEO benefits of WordPress are obvious," said Stephan Spencer, Netconcepts' Founder and President. "'Powered by WordPress' is a phrase seen on millions of blogs. But one wouldn't normally associate that phrase with any other type of website other than a blog. I predict that's about to change as search marketers begin to appreciate the SEO benefits of running WordPress on microsites."
Netconcepts' own corporate site switched from a home-grown CMS to WordPress in August 2006 and showed a significant increase in traffic in the following months. Based on this experience, Netconcepts designed CreditDemystified.com to take full advantage of WordPress' SEO power.
"We've equipped the site with all the SEO goodies like a tag cloud, tag pages, RSS, my SEO Title Tag plugin, and Technorati tags. One breakthrough was adapting the Ultimate Tag Warrior plugin to handle static pages, and not just posts," Spencer continued.
The directive for Netconcepts' website and SEO design team was simple, create a search engine optimized site using WordPress that doesn't look like a blog.
CreditDemystified.com, designed to make credit information accessible and easily understood by visitors at a glance, has a wealth of credit related content covering credit repair to debt management. For many consumers, the topic of credit can be dull or intimidating, so the site includes fun and quick review elements such as the Credit Intelligence Quiz (CQ Quiz). The quiz provides a score, and includes useful information for participants to improve their credit knowledge.
***
About Netconcepts, LLC
Founded in 1995, Netconcepts is a Web technology company specializing in natural search optimization consulting, including the industry's only performance-based Proxy Optimization TM Service. Netconcepts offers search-friendly E-Business design and development services for such successful retail brands as Discovery Communications, Northern Tool, Home Shopping Network, Kohl's Department Stores, REI, and Cabela's among other brands. Netconcepts has offices in Madison, Wisconsin and Auckland, New Zealand.
###
Comments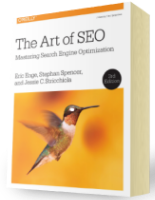 Chapter 7:
Content Marketing
From the fundamentals of link building to the nuances of natural linking patterns, virality, and authority.
Get Free Chapter