New WordPress Plugin for SEO
I've just released "SEO Title Tag", a plugin for WordPress. As the name implies, it allows you to optimize your WordPress site's title tags in ways not supported by the default WordPress installation. For example:
If you define a custom field (called "title_tag") when writing or editing a post (or static page), that custom field will then be displayed as the title tag.
The post title and blog name are reversed for better keyword prominence within the title tag.
You can shorten or eliminate the blog name altogether from your title tags.
You can define a custom title tag for your home page through the Options page.
It will use the category's description as the title on category pages (when defined).
If you're using the UltimateTagWarrior plugin, it will put the tag name in the titles on tag pages.
It will also cook you dinner and all sorts of other amazing, useful stuff (not really).
Get the plugin now: SEO Title Tag WordPress Plugin
I'd love your feedback, as this is my first WordPress plugin.
Enjoy!
Comments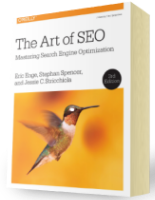 Chapter 7:
Content Marketing
From the fundamentals of link building to the nuances of natural linking patterns, virality, and authority.
Get Free Chapter