Links from my own site – hurting or helping?
Q: Regarding link popularity: I just queried google (i.e. link:www.xyz.com) and found some 2,000 links to my site. But, according to Google's results, many of those links are from within my site. Is this hurting or helping me?
A: It's not hurting you. Internal links count as votes, and as such that can help you, but voting for yourself can only do you a limited amount of good. Linking across your entire site to particular pages (such as your Top Sellers) reinforces their importance over other pages in your site. But without good inbound links from other sites "voting" for you, your voting for yourself doesn't mean much.
Incidentally, if you want to see how many inbound links are pointing to your entire site (not just your home page) and with all internal links excluded, try the following search on Yahoo!: "linkdomain:www.xyz.com -site:www.xyz.com" (without the quotes)
Comments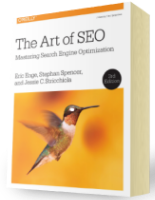 Chapter 7:
Content Marketing
From the fundamentals of link building to the nuances of natural linking patterns, virality, and authority.
Get Free Chapter