Getting noticed in the blogosphere part 2
As a follow-on to yesterday's post about getting your blog noticed by influentials, i.e. A-List bloggers, I thought I would describe a scenario just recently presented to me.
I have been asked by analyst Shar VanBoskirk of Forrester Research if I would be willing to blog about their upcoming boot camp on integrated marketing on May 5. It's a full-day intensive workshop being held at their offices in Cambridge. I said "Sure, I'd be happy to mention it, but I don't think it will get picked up by other bloggers and thus it won't spread through the blogosphere." So the effectiveness of such a promotion strategy is limited.
A-List bloggers, like everyone else, are forever tuned in to the station "WII-FM" – What's In It For Me. As such, Forrester's message would be much more contagious, if there was a "free prize inside," so to speak, for the bloggers who read my boot camp "plug." In other words, the way to spread the word about the Forrester boot camp is for Forrester to make an irresistible, exclusive offer to bloggers who blog about the boot camp.
For example, what if Forrester gave away some exclusive piece of research that normally only their clients have access to? It doesn't have to be an entire report, just something exclusive and something bloggable. Like a "scoop" on an upcoming report. Or a synopsis of key points or perhaps a mini report. Now what if the bloggers who blog about this integrated marketing boot camp get access to this exclusive information as part of the deal? In fact, what if Forrester Research turn this into an ongoing program, kind of like how Microsoft is wooing influential bloggers with their "Search Champs" program (where they hand-pick influencers and fly them to Redmond to wine-and-dine them and to discuss how Microsoft might improve their MSN search engine).
Hmm… "Forester Research Champs." Sure, they'd be buying off bloggers. But everybody would win, including blog readers. Bloggers get access to exclusive research early and often – as long as they agree to blog about Forrester. It is an interesting proposition. Forrester, what do you think?
Comments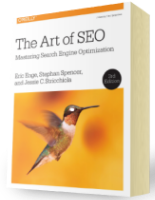 Chapter 7:
Content Marketing
From the fundamentals of link building to the nuances of natural linking patterns, virality, and authority.
Get Free Chapter