SEO Toolbox Tips
How current is your SEO Toolbox? Do you have all the tools needed to research, analyze & diagnose the SEO issues for your website? Are you reading the most useful blogs? How well organized are the RSS feeds you subscribe to? Are you using webmaster tools to gain an inside view to how the search engines see your website? In this article Netconcepts Director of Search, P.J. Fusco shares a few of her favorite goodies in her SEO Toolbox:
…updating and refreshing your SEO toolbox requires a continual flow of information to keep up with the job's demands. Keeping your SEO toolbox well organized and current has never been more challenging.
Read the full SEO Toolbox article at ClickZ.
Comments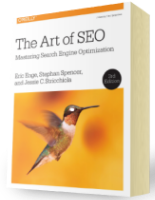 Chapter 7:
Content Marketing
From the fundamentals of link building to the nuances of natural linking patterns, virality, and authority.
Get Free Chapter