Writing a Request For Proposal
You know your Web site needs an overhaul and you know you don't want to do the work in-house. It's time to write a Request For Proposal, or RFP, which you will then send out to prospective Web design firms for bids.
Many companies make the mistake of drawing up a site map and calling it a Request For Proposal. A hierarchy of Web pages doesn't provide a prospective vendor with nearly enough information to determine the project's scope, and consequently an accurate cost and delivery date.
A meaningful RFP starts with the goals and strategic direction. Then it follows with functional requirements, timeframe, budget, and a numerous other design, technical, and administrative details.
A good, easily achievable starting point is to complete a project profiler. This is a questionnaire developed by David Siegel and published in his excellent ook Secrets of Successful Web Sites: Project Management on the World Wide Web. According to Siegel, a project profiler can effectively serve as your RFP. Indeed, a profiler provides a good foundation for any new Web
project.
The project profiler includes a set of questions under the categories of "Project Background & Goals," "Target Audience, Content, & Functionality," and "Field Trip."
The "Project Background & Goals" section of the profiler serves to define the Web site's mission statement, success metrics, schedule requirements, internal resources, constraints, corporate identity assets, and so forth. You will be asked questions such as:
"Who are the decision makers?"
"Who's responsible for what?"
"What outcome will make this project successful?"
"Will the web site reinforce an existing branding or marketing strategy? How?"
The "Target Audience, Content, & Functionality" section defines the intended target audience, products and services offered, content sources, update schedules, and functional requirements. Questions in this section include:
"What types of visitors do you want to attract?"
"What are your goals for each type of visitor?"
"Where will content come from? Will it be new, re-purposed, or both?"
"Who will update the content? How often?"
"What types of legacy systems/databases are in place?"
The "Field Trip" portion of the profiler is an especially important and beneficial exercise. In it you are asked to identify "best in class" sites that you admire in different respects, such as graphics, navigation, download speed, content, and community. This will help the prospective vendors get a sense for your aesthetic,
usability, and functionality preferences.
The project profiler template can be found at http://www.secretsites.com/classic/profiler/content_profiler.shtml.
Of course the RFP is just the tip of the iceberg; you'll need a lot more than that to develop a successful web site. But armed with a proper RFP, you'll be off to a good start in forging a rewarding partnership with any Web design firm.
For more tips about how to write an RFP, I invite you to read my article entitled, "How to Write a Killer RFP (Request for Proposal) For Hiring An SEO Firm."
Comments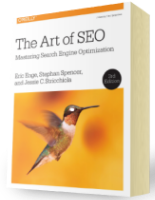 Chapter 7:
Content Marketing
From the fundamentals of link building to the nuances of natural linking patterns, virality, and authority.
Get Free Chapter