What to do about copyright infringement of your website?
They say that "Imitation is the sincerest form of flattery." But not if you're a site owner! I've seen designs copied, content copied, even entire sites copied. It's so easy for someone to "view source" and take whatever they like, without regard to copyright.
You can locate copyright infringers pretty easily with Copyscape if they've lifted some of your page copy. It's much more difficult if they've limited their sticky fingers to just your design.
So far I've discovered by tip-off or by chance that our Netconcepts.com site design has been "pinched" at least 3 times. One of them was a fairly big company. More than a year and they finally stopped using our design, but the evidence of their misbehavior is permanently archived in the Wayback Machine (hint: pick a date in 2004 and compare with my company's site). In fact, the Wayback Machine is quite useful in that it can serve as indisputable proof of who is the source and who is the copy: whichever site shows the design in use before the other is the source.
The way I see it, you have five options for dealing with an infringer:
Do nothing,
file a DMCA infringement notification with Google, to get them yanked out of Google,
contact the infringing company's CEO,
"out" them on your blog 🙂
have your lawyer send them a nastygram.
I have to admit that we've often done nothing, just because we're so busy. Eventually they'll redesign (maybe pinching another design from somewhere else?). Of course that's not a great option if you're serious about protecting your IP (intellectual property) rights.
With our most recent infringer, we've taken a more active role. We spoke to their CEO. He asked for 2 months to redesign, which we've granted them.
So, what would you do? What's the most legally correct response? The most pragmatic response?
Comments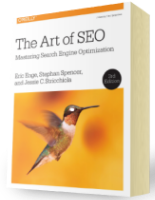 Chapter 7:
Content Marketing
From the fundamentals of link building to the nuances of natural linking patterns, virality, and authority.
Get Free Chapter