Web 2.0 for Publishers
In this presentation to The Wisconsin Publishersâ?? Production Club's (WPPC) Catalog Innovations meeting in January, Netconcepts' Director of E-Business, Hershel Reese explains how Web 2.0 has great implications for catalogers and publishers online.
RSS feeds are changing the way people are consuming their media. You need to stay on top of this channel in order to remain competitive online.
Web 2.0 is also changing the way people interact with web properties. The user generated content phenomena is helping site owners to actively engage an audience and build community online.
This presentation will also discuss how one online publisher, www.dmnews.com, is leveraging the Web 2.0 tool kit.
Social Media Sites are emerging as a channel to be reckoned with online. If you are not participating in these communities you are missing opportunities for increased brand recognition and traffic to your sites.
You Will Discover:
Best practices for RSS usage
The benefits of user generated content
Why tagging matters for website owners
How industry leaders are leveraging Web 2.0
How social media can bump up your traffic and impressions
This presentation was originally held on Tuesday, January 30, 2007 at The Country Springs Hotel in Pewaukee, WI.
Comments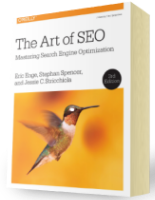 Chapter 7:
Content Marketing
From the fundamentals of link building to the nuances of natural linking patterns, virality, and authority.
Get Free Chapter