Our CEO has a personal blog, but it doesn't get any traffic.
Blogs are a great place for key personnel to strategically express their views, and they can add warmth and personality to your brand. The problem is, many blogs are just too boring! Unless you do something different, you're unlikely to attract a large audience. If your CEO is running a blog, it should fit into your overall content strategy, blending in seamlessly with marketing campaigns, branded content, and other collateral. You should also attempt to make each post as engaging as possible. Sorry—no stories about the weekend fishing trip! I've advised the CEOs of major companies on the direction of their blogs, successfully increasing engagement and traffic, and often raising their public profile in the process.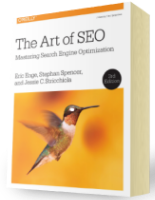 Chapter 7:
Content Marketing
From the fundamentals of link building to the nuances of natural linking patterns, virality, and authority.
Get Free Chapter