My site aggregates content from other sites, and we don't get a lot of organic traffic.
People aggregate content for all sorts of reasons, some of them legitimate, and some not so legitimate. If you choose to aggregate someone else's content, then unfortunately you are always going to run into issues. This is due to the fact that search engines do not like duplicate content. Why would they serve up your page when they can get original content somewhere else? The bad news is, if you want to improve your organic traffic, you're probably going to have to start from scratch and create original content. If this seems like a daunting task, don't worry—I can guide you to do it in the most efficient and effective way possible, including sourcing content from professional SEO writers.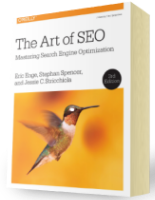 Chapter 7:
Content Marketing
From the fundamentals of link building to the nuances of natural linking patterns, virality, and authority.
Get Free Chapter