I know my website is terrible, but I'm not sure how to fix it.
I've been in the online marketing game since the 90s, so I've seen a lot of bad websites! I've also seen some of the worst sites transformed into online money making machines. No matter how badly your website is performing, there is always something you can do to fix it—even if that means a redevelopment. My in depth audit will uncover the real reasons your website is failing, and then give you concrete recommendations on how to fix it.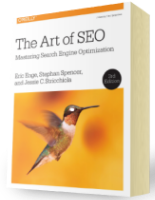 Chapter 7:
Content Marketing
From the fundamentals of link building to the nuances of natural linking patterns, virality, and authority.
Get Free Chapter