Interview with Google's Vanessa Fox
I had the distinct pleasure of spending an hour on the phone with Vanessa Fox, Product Manager of Google Webmaster Central, interviewing her just over a week ago. Our discussions ran the gamut of SEO issues â?? redirects, duplicate content, AJAX, Flash, PageRank, and of course, the wealth of tools and reports that Google has made available in their Webmaster Central.
If you prefer to read this interview, check out the transcript.
The interview has been edited down to 40 minutes, and is now available for you to listen to.
Comments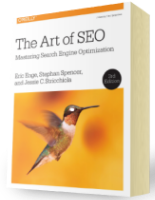 Chapter 7:
Content Marketing
From the fundamentals of link building to the nuances of natural linking patterns, virality, and authority.
Get Free Chapter