Using Images for Local SEO
Google's recent deployment of Universal Search resulted in the inclusion of content drawn in from their other search verticals into the main web search results. As this integration trend continues, and as Google further expands upon the 200+ signals they use for ranking, it becomes increasingly important to diversify a site's presence on the web, and to work on ranking well in each of the various areas of vertical search.
We might reasonably expect that "diversification of signal" could also help with ranking in each of the individual verticals as well. The lines are blurring and beneficial ranking in one area can now leach over to affect another. For these reasons I'm providing some suggestions for using images to achieve better rankings for local businesses and for local search.
A recent Hitwise report indicates that usage of Google Maps increased significantly as a result of more visibility from Universal Search. Another long-running, high-performing vertical at Google is Image Search—until the acquisition of YouTube, Image Search was Google's second most-visited property. So, leveraging a combination of optimizations for both local search and image search could provide some beneficial synergies.
Most local SEO approaches have focused mainly on yellow pages directory information elements and general search optimizations: using business name and locality in the TITLE/H1/BODY-text; inclusion of business address on all pages of the site; updating of business profile information in the many local directory and info sites; etc. Most of these approaches seem a bit skimpily staid from my viewpoint—I think that local search marketing needs to go further towards the broad enhancement of a business's basic information. Various image optimizations can do this.
A lot of small business websites I see out in the wild are pretty thin on content. As a consumer, I find that unsatisfying. True, when I'm seeking a local business, I may mainly want to see the basic stuff: where are they located; is there a map; what are their hours of operation; and what's their phone number. Though, if they were more detailed in many ways, I wouldn't have to call them, nine times out of ten… a picture is worth a thousand words, so I see both SEO value and benefit to user-experience in beefing up local biz sites' image usage.
So, what are some of the potential search optimization benefits to various image optimizations?
Pages which are already formed well and which have plenty of text content might benefit from containing images which also sing to the search engine on the page's desired keywords. If users are seeking "widgets in Peoria", having pictures of "widgets in Peoria" increases the signal and page relevancy to the search engines.
Having content available to appear in image search results may increase chances of links or content appearing in regular web search results under the new Universal Search paradigm.
Increasing the reasons that users might visit your site and linger on its pages could help drive up incremental traffic, giving the site more credibility in the search engine's eyes.
Keeping users on your site a little longer once they arrive could help out with beefing up the natural search quality score that Google's undoubtedly using as a ranking factor. Sites/pages where users bail out rapidly would likely generate a negative ranking signal—it must be bad quality if a user leaves quickly, and search engines can see when a user clicks the back button quickly and returns to their search results.
Providing more information such as images to prospective clients can increase the chances of conversion. Not only does it help them select one provider out of the crowd, but merely having the pictures available makes the business seem more open and inviting. The implicit transparency automatically makes a business appear more honest and trustworthy. So, having pictures in various online directories may help bring more people to the business and to the website.
Having a company's logo icon associated with their listing in various directories may enhance a user's perception of the quality and trustworthiness of the business.
Ways to use images for local SEO
Here's a handful of image optimizations which can benefit the overall search marketing and online marketing programs for local business sites:
Provide a photo of your business facility location/building on your site. If there's a particularly beautiful or interesting view looking out from your business, you might consider adding that as well. If you're located near a particular point of interest or other landmark, having the name of it on your site could help in associating your business with that area.
Provide photos of all your products on your site if you haven't already. Or, if you're a service-based business, provide photos of smiling employees providing that service.
It's very common to add in a map or link to a map on a local business's website. I think it's beneficial for SEO to have the map image stored on the same domain name as the site, though it's preferable for users to pull in a map dynamically through one of the major providers so that all the zooming and panning controls can be available.
If your local business has its own blog, add a blog map or FeedMap onto it. This will add a local signal to the blog, and also bring it to the attention of other bloggers in your local area who are also participating in he FeedMaps.
Always add ALT text into image tags! Describe the images using valuable keywords. Do not over-stuff keywords into ALT text! Make it brief, and naturally-written. Using ALT text is also good for best usability and accessibility as well. For a map image, the ALT text ought to include the business name and location. Ex: "Acme Hotel at 100 Elm St., Springfield, MO 65721"
Try to also provide similar caption text just below or to the side of images (ideal for the text to be in the same table cell as the image itself, for close contextual association with the image). Visible caption text can be longer than ALT text, but it should still be written in a natural-sounding manner, geared towards consumers.
Throughout a local site, on all pages the logo image should be linked back to the homepage with relevant ALT text. I suggest using only the business name, business type, and city name. Ex: "Jane's Clip Shop—Hair Salon in Seattle"
For businesses such as restaurants, it may be beneficial to add photos of celebrities who have visited the establishment. I see this in all the Asian food restaurants in my neighborhood, since the Dallas Cowboys practice facility is nearby—those shops take great pride in snapping photos of the football players and posting them at the checkout counter. This could translate well for online, too—people perform tons of searches on celebrity names all the time, so this could bring traffic to a business site which could convert. The main thing is that it could drive up inbound links, and get users to linger longer on the site, perhaps bolstering the quality scores.
For larger companies, or companies involved in more stuff that's of interest to the general public, add a press kit on the site, including photos of your business and products, and provide loose enough licensing to allow users to take and use those images for their uses as long as they credit you with text below the photo, linking your business name back to your homepage.
Lots of online marketers have written articles about engaging with the blogosphere to drive inbound links. I won't go into details, but you could offer free products or services to local bloggers and other reviewers—when you request them to review you, and when you contact them you could provide them with the link to the press kit or to a photo of your business, or to a picture of the specific product or service which they'd be welcome to use in their reviews. Assisting and enabling people to review you can help build inbound links and clickthroughs from the reviews. (You could do this with no requirement that reviewers necessarily provide a positive review or anything—positive or negative, you still win on the SEO front if they hyperlink their posting back to you.) The link should be back to a related info page about the product/service on your site, and having the picture included helps optimize the signal on the blog post as well.
National chain stores should try to provide a map and a picture of each location on their store locator pages. There's no reason why they couldn't get each of their locations to email them a digital picture.
Submit your site's images to Google's Image Labeler program, (sign up through your Google Webmaster Tools account). This will enable your site's images to get independently tagged with keywords by the Image Labeler game players. Adding more trustworthy keyword signals may help your images rank above others.
Enhance your business listings in major directories by adding images into their profiles. A number of the main local directories allow this, though some may charge for it. In other cases, any user could upload their pictures of your business—so I suggest that you might want to manage your reputation by being first in line to upload your best pictures before others do. Some of the images from other directories are getting absorbed into Google Maps and displayed there, even though Google's also now allowing users to upload their own. Here's a few: InfoUSA/DAplus, Superpages, Yahoo, CitySearch, Yellowpages.com, Google Maps and Yelp.
Various directories such as Superpages and Yelp have reviews widgets which can be added onto your site—adding these graphic elements to your site could further enhance your conversions, if you have sufficiently positive reviews.
Add Photos of the business facility and/or location into photo sharing sites such as Flickr, Fotki and 23. Include links pointing back to your website in the image's caption text, where possible. When adding pictures of your facility and location into Flickr, be sure to drag the image onto the mapped location for the address. Also, upload a picture of each of your products into these photo sharing sites, and then link them each back to the specific product page. Be sure to use all the available features of the image sharing sites in addition to the caption text—enter in a title for the picture, keyword tags, and associate them with any groups, albums, or sets which have a related theme.
eBay is chock full of images, and this can be leveraged as a sort of advertising medium. I know that some businesses don't consider eBay to be a worthwhile distribution channel for them, but if you consider them as a promotional vehicle, they can be quite a good value. All eBay auctions should have an image included in them, and you should be able to format your product listing to link back to your site. What's the local flavor with this? eBay's advanced search allows consumers to search for products in their geographic area, so there is a bit of a local association, even though I expect that very few people make use of this feature. Still, for providers of products that are particularly heavy and expensive to transport, the local aspect may be very strong in eBay.
For reasons similar to eBay, upload listings of products to Google Base, including pictures, so that your images will appear in Google Products (formerly known as "Froogle").
Include a picture in your email campaigns along with a link back to your site. There's a really great little Mexican food restaurant here in Coppell, Texas, which sometimes emails out weekly special notices, and they will include a photo of the dish that has the special, cheap price. I can tell you—the days they offer those specials they fill up their restaurant! Of course, you should follow other best practices for email marketing—only do opt-in for instance. The restaurant in question has a jar at the front which says something like "Drop your business card in to be notified about our specials."
Get your suppliers to link back to you! I've seen a great many B2B sites out there which include a page listing their clients/partners logos. Invite any/all of your suppliers to do this—squeeze them into committing to it the next time you place an order or re-sign contracts with them. Provide them with your logo image and ask them to link it back to your company website in order to pass PageRank to you.
Once a site has accomplished basic SEO and basic Local SEO steps, increasing the diversity of online signals will be the key to advanced SEO. These image optimization tips for local SEO can help with promoting the business and ranking of the site through diversity of signal. I've likely only touched the surface hereâ??feel free to submit additional tips in the comments.
Comments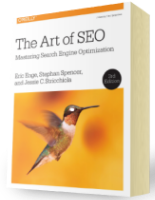 Chapter 7:
Content Marketing
From the fundamentals of link building to the nuances of natural linking patterns, virality, and authority.
Get Free Chapter