URL encoding
Q: Is URL encoding search engine unfriendly?
A: No. URL encoding – where a special character like a space character in a URL is converted to %20 and a colon to %3A – isn't a signifier to the search engines that the page is dynamic and thus is a potential "spider trap."
Comments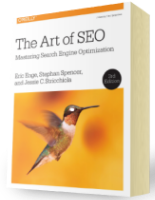 Chapter 7:
Content Marketing
From the fundamentals of link building to the nuances of natural linking patterns, virality, and authority.
Get Free Chapter