E-commerce consultancy service vital to their success
"I approached Netconcepts regarding the development of TRUSTcite as I knew they were experts in the field of search engine optimisation (SEO) and had extensive experience in website development. However, what was more important to me initially was their e-commerce consultancy service which proved to be vital to the success of developing and launching TRUSTcite. Much like a pattern-maker, Netconcepts took my sometimes abstract, 2-dimensional ideas, and developed the patterns out of which the 'fabric' of TRUSTcite was created. It was amazing to see the concept become reality following ongoing discussion and recommendation.
As a new venture, it was vitally important that clear outcomes and costs were identified and monitored. This is something I found Netconcepts to be excellent at and I can't recommend highly enough how well managed the whole project was. I certainly look forward to a continuing relationship with Netconcepts as they are truly excellent designers, developers, project managers, e-commerce advisors and all round neat people!"
Hannah Samuel
Founder
TRUSTcite
Comments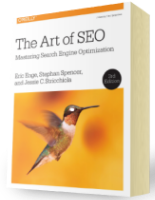 Chapter 7:
Content Marketing
From the fundamentals of link building to the nuances of natural linking patterns, virality, and authority.
Get Free Chapter