Toy Stories: Show-and-Tell Blog Hooks Customers
Colorado science teacher, marketing guru, and Netconcepts' GravityMarket client, Steve Spangler sits down with the Wall Street Journal to discuss his blog's successful impact on his business.
In this interview, Steve discusses how Netconcepts has helped him over-achieve his business goals by rebuilding his original ecommerce site and later creating a powerful blog to fuel his viral online success.
Steve states, "I found a couple Web sites [that I liked] and they said "Netconcepts" on the bottom. So I contracted [the company] to redesign the Web site. I wanted to find somebody that wasn't in my industry, to not get the same old stuff. I liked what [the Netconcepts LLC founder Stephan Spencer] was saying about showing people you're the expert in that field by what you write. I found out how important it was to have more content, like our experiment library. People started visiting."
Read entire Wall Street Journal article here.
Comments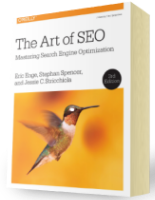 Chapter 7:
Content Marketing
From the fundamentals of link building to the nuances of natural linking patterns, virality, and authority.
Get Free Chapter