Stephan Spencer's Top 10 Tips for E-Commerce Sites
Stephan Spencer's top 10 tips for e-commerce sites
1. DON'T FORCE YOUR VISITORS TO THINK
Ensure your site has intuitive navigation and usable site architecture, not just an appealing look and feel. Visitors should be able to accurately guess what a button or link does before clicking on it.
The search function (you do of course have one!) should appear in the navigation bar, preferably at the top right, where users expect to see it — and not as a button but as a type-in field, which saves the visitor from having to go to a search page to do their search.
Upon a keyword search, automatically check spelling and, when appropriate, suggest corrections. If their search is too generic, suggest alternatives (for example,"You just searched for 'cameras.' If you'd like, you could try a more specific search like: ' canon eos cameras" 'nikon digital cameras,' … ").
2. LEAVE A TRAIL
Incorporate "breadcrumb navigation" into your online catalogue pages. This will show where in the site hierarchy the currently viewed web page is located and it will give the visitor shortcuts to instantly jump higher up the hierarchy (for example, "Online Catalogue > Home Furnishings > Lighting > Table Lamps"). It's good practice for usability and for search engine optimisation.
3. CUT TO THE CHASE
Make maximum use of screen real estate to minimise scrolling. Put the most important stuff (like your 0800 number) "above the fold."
Minimise the number of steps required to locate products and make purchases. Amazon.com's 1-Click ordering is the epitome of efficiency.
4. BE A LIGHTWEIGHT
Optimise images for small file sizes and fast downloads, strip out extraneous HTML and remove unnecessary graphics. Ideally, a page should load in less than 10 seconds.
5. BE OPEN TO 'OPEN SOURCE'
Don't waste budget on unnecessarily expensive software licences when an open-source solution exists. Open source offers a highly customisable, stable and low- or no-cost alternative to proprietary software.
6. STUDY YOUR CUSTOMER'S EVERY MOVE
Watch how your customers use your website and learn what frustrates them. Analyse your visitor's traffic patterns (for example, what are the top exit pages, what are the most popular searches that return results), invite customers to complete a survey after they purchase and have informal brainstorming sessions with your most valuable customers.
7. DELIGHT YOUR CUSTOMERS
Service your customers like your survival depends on it, because it probably does. Reply to email within hours. Keep your commitments to your customers; make "under-promise and over-deliver" your mantra. If your site promises delivery in three days, that doesn't mean five or 10.
You'll also need 24-hour server support to effectively manage traffic surges.
8. SING TO THE SEARCH ENGINES
Each product or category page has its own unique "song" and should be made to "sing" for its own set of keywords. Your home page can't be everything to everybody; it can't be ranked in the top 10 for every product your online shop carries. The numerous pages that make up your online catalogue can serve as a virtual sales force.
To illustrate, the home page of Netconcept client SmokeCDs.com ranks in the top 10 in Google for "buy CDs" but it's their category pages that rank well for genres like "drum and bass music," and product pages that rank well for artists like "Trick Daddy" and albums like "The Matrix Soundtrack."
However, there's no point in making your pages sing if they aren't being picked up by the search engine spiders. Some of America's largest online cataloguers have problems getting their full catalogues fully indexed by the major search engines, as detailed in our analyst report The State of Search Engine Cataloguing 1.0 (published by Catalog Age).
SmokeCDs.com has tens of thousands of product pages in Google, whereas major US music retailer SamGoody.com only has a few hundred. Check how many pages your site has in the major search engines with the free tool at http://web.archive.org/web/20040708075116/.
The best results are achieved when spider-friendliness and search engine optimisation are built into the site from the ground up rather than added as an afterthought.
9. FLOG YOUR PRODUCTS
Merchandising on the web means making clever use of your virtual shelf space. Choose some products to feature on your home page and rotate through them.
Consider having a "Top 10 List" of products (as in the top 10 products you most want to sell). People are like lemmings when it comes to top 10 lists.
Also offer related product recommendations and user-contributed reviews on each of your product pages. Consider promoting limited-time, limited-use special offer codes as a way to stimulate sales.
10. BE FULLY FUNCTIONAL
For starters, visitors should be able to add items to a "shopping cart." Furthermore, they should be able to abandon their carts and and return days later and still have the cart intact.
They should also be able to create user accounts for ease of repeat ordering and checking order status.
If it's a consumer site, they should be able to buy and redeem gift certificates.
Online ordering should of course be secure, with a 128-bit secure server certificate installed.
Finally, hopefully you have an admin interface that allows you to add, remove and update website content yourself.
Also, regarding the up-and-coming trend for e-commerce sites to offer online forums and the question of how they can add to the site's value proposition and also serve as search engine fodder, here's an example of one Netconcepts did.
Comments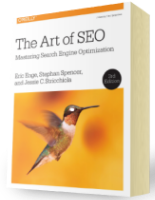 Chapter 7:
Content Marketing
From the fundamentals of link building to the nuances of natural linking patterns, virality, and authority.
Get Free Chapter