Top 20 list of WordPress plugins for bloggers
I've posted onto BusinessBlogConsulting.com a list of my favorite WordPress plugins and what they do and why I like them. If you're blogging under the WordPress platform, you might want to trick out your blog with some of these great plugins.
The list includes: PodPress, Popularity Contest, Google Sitemaps Generator, Akismet, Adhesive, Ultimate Tag Warrior, EmailShroud, Transpose Email, WP-EMail, WP-Print, Subscribe2, In-Series, Permalink Redirect, Gravatars, Subscribe to Comments. WP-Notable, A Different Monthly Archive, Related Posts, Related Posts for your 404.
That's not quite 20, so I'll add one more to that list — a suggestion from commenter Neville Hobson (thanks, Neville!) — FeedBurner Feed Replacement, which makes it easy to "migrate" your pre-existing RSS subscribers over to Feedburner once you sign up for the service (which is excellent, btw).
Comments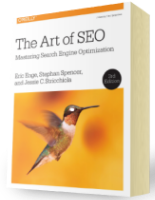 Chapter 7:
Content Marketing
From the fundamentals of link building to the nuances of natural linking patterns, virality, and authority.
Get Free Chapter