Tips for submitting to Open Directory
What's the best way to get listed in the Open Directory (aka DMOZ)? I often hear people complain that they can't get their site listed. They wait for months and nothing happens. Then they resubmit and wait, and again nothing happens. Then you throw your hands up in the air, wondering if bribes or secret handshakes are required.
An Open Directory listing is a useful thing to have. With it comes some good link gain ?Ä® from Google Directory, DMOZ.org, and a pile of lower-tier directories that use the DMOZ database. It's not a magic bullet by any means, but it's worth getting listed.
The key to getting into DMOZ seems to be in picking the right category. The actual mechanics of submitting is easy. From the chosen category page on DMOZ.org, simply click on "suggest URL" (or "Submit a Site" from the category page in Google Directory). I'm going to mix metaphors here (English majors please forgive me)… if you want to give yourself the best shot and to put your best foot forward, heed these words of advice:
Peruse the categories where your competitors are listed.
Often times you'll find multiple suitable categories this way. You can search either DMOZ.org or Google Directory. Try searching for their domain name, and if that turns up nothing, try their company name / website name, and variations thereof.
Read the category information to ensure that category is appropriate for you
When viewing the category page within DMOZ.org, click on the "Description?Ĺ link at the top right of the page. Make sure your submission will be totally on-topic and fall within the guidelines listed here.
Try to pick a category with an editor.
This is important. You don't stand much of a chance if there's no editor. That's because your submission will go to a higher-level category editor who is probably overwhelmed with submissions coming in from all the unmanned subcategories underneath him/her. You can see if a category has an editor by scrolling to the bottom of the category page at DMOZ.org. If the category has one or more editors, their name(s) will be listed at the bottom of the page preceded by the words "Category editor." For example, the Computers: Internet: Web Design and Development: Promotion category is edited by cmconsulting. Clicking on cmconsulting takes you to her profile page, which in this case includes a link to her company website.

To find relevant categories with editors, try this search on Google:

site:dmoz.org intitle:keyword "Category editor" OR "Category editors"

replacing the word "keyword" above with your main keyword. So, for example, if you're looking for jewelry-related categories with editors:

site:dmoz.org intitle:jewelry "Category editor" OR "Category editors"

Fine-tune your home page to fit the category you are targeting
For example, if you are a jeweler with a range of inventory and you are submitting under the Shopping: Jewelry: Charms category, make sure Charms is a primary feature on the home page (in the title tag and in the page content), at least until you get approved.
Spiff up your site prior to submitting
Scan your site for broken links and broken images with a broken link spider tool and fix them. Remove any "This page under construction" messages. Spell check all the copy for typos. Ensure that you're providing your full contact information, including address. Remove anything dodgy like doorway pages or tiny text (and NO, don't put them back after you get in!). Make sure the content of your site is valuable. Thin affiliates aren't welcome in the Open Directory.
Consider going Regional
You might consider it more desirable to be listed on a main global category page, but we need to be pragmatic here. If you are a retail shop in Dallas, Texas, you stand a much better chance of getting into DMOZ if you found a Regional category for Dallas, Texas. If you have multiple locations, consider a broader Regional category that encompasses all your locations. For example, if you have locations in Dallas and Houston, go with Texas. If you have locations in Dallas and Vancouver, go with North America. Sometimes, multiple Regional categories would be more appropriate.
Get your home page listed first before trying to get "deep links"
For typical sites, DMOZ strongly prefers listing only the home page. Exceptions are made where a sub-section or sub-page adds substantial value to the category and wouldn't be located easily by visitors to the home page. Examples of such: an article library, a video archive, conference proceedings. If you have such a resource, submit it and see if you can get in — but do it after you've successfully gotten your home page listed. And submit the resource to a DIFFERENT category. Quite a number of sites have achieved multiple listings in DMOZ. Hopefully you will too!
Be non-promotional when crafting your title and description
You will need to work in your most important keywords into the title and description (the title is most important), writing in the third-person, and without sounding salesy. And this title needs to look like the name of your site, not a list of keywords. This will reduce the risk that you'll turn off the editor and the risk that the editor will change the title and description. DMOZ information is sometimes displayed in SERPs ?Ä® like when the search term used isn't present in your page content or your meta description. If an editor rewrites your title or description for you, your most important keywords may be stripped out or your site could be introduced in an unappealing way on Google SERPs.
Be patient, but not too patient
Don't expect your listing to be approved in a week. But then again, don't wait a year. If after a month or two you don?Ä´t get in, submit to another category. Don't waste your time submitting to the same category; you'll just sit in the queue with multiple copies of your submission and that's not going to make the editor happy.
If it's a second submission, lower your sights
Ok, so your listing didn't get approved and it's been a month or so. Well then, this time pick a category that's more attainable for you. For example, maybe you should submit to a more specialized category (e.g. Shopping: Jewelry: Handcrafted, instead of Shopping: Jewelry). Or pick a Regional category.
Once you're in, request a category reassignment
Didn't get in to your first choice category because it didn't have an editor or you didn't get a response from your submission? Then I've got good news for you: it's a lot easier to move categories once you're in Open Directory than it was to get in in the first place. You don't need to settle for a listing in a sub-optimal category.
Get more involved in the ODP (Open Directory Project) community
This could mean volunteering to become a category editor. Or just becoming known as a constructive, helpful person on the Resource Zone forums. Insiders have a better lay of the land. They know the politics, the manoeuvering required, the favors to call in, the buttons to press.
Comments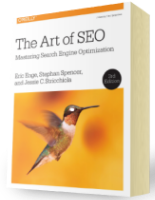 Chapter 7:
Content Marketing
From the fundamentals of link building to the nuances of natural linking patterns, virality, and authority.
Get Free Chapter