The rulebook for SEOs wanting to do business with big companies
Just read this awesome post from Chris Smith of Verizon Directories (SuperPages.com), where he lays out his criteria for selecting an SEO firm to work with. In summary (I'm paraphrasing here), the SEO agency…:
should have longevity and track record of at least somewhat related work
should not have promoted itself using unrealistic promises and representations
should have a clean record (no black-hat methods)
should not have tried to impress with a cursory 5-minute site assessment leading to naive recommendations
should not have insulted our technical work
should not have made claims of secret methods/knowledge
should have priced their services reasonably
should have posted information on their website about the companies/sites they've done work for
should have demonstrated strong technical work on their own site as well as clients' sites
should have good people and make that evident on their company site
should have projected a professional demeanor
shouldn't have pestered or been hard-selling
should be flexible in legal contract negotiations, once selected
Good stuff! Read Chris' full article: "How major companies choose SEOs".
(Disclaimer: yes, Verizon SuperPages.com is a client of ours, and no we don't wear sandals to business meetings.)
Comments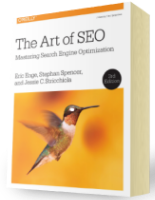 Chapter 7:
Content Marketing
From the fundamentals of link building to the nuances of natural linking patterns, virality, and authority.
Get Free Chapter