The Pros & Cons of Microsites As An SEO Option
I've never been a fan of "one page salesletter" web sites espoused by some marketers (here's an example). Such sites seem to drone on, with so many screenfulls that I get tired of scrolling. And there are so few pages to the site that it's an SEO nightmare. If each page should only have a maximum of three keyword themes, that doesn't provide for very many keyword ranking opportunities. It's like the antithesis of "long tail SEO."
I feel differently about microsites. Optimized properly, a microsite may have dozens, or even hundreds of pages to it.
Consider for example Countrywide's Credit Demystified microsite (disclosure: Netconcepts built the site), which has a tag cloud and tag pages that help boost the Google page count to 1,100.
There's a time and place for creating a microsite, versus further building out your main web site. If your site is likely to gain more traction and interest with webmasters and bloggers by being at an arm's length from your main site, then by all means consider it. For example, CreditDemystified.com is a microsite on improving one's credit which contains not only articles, but also podcasts and RSS feeds. Given how "bloggy" the site is, it's more likely to get link love from bloggers than a series of articles hosted on Countrywide's site will.
A microsite may have the added benefit of bypassing some of the legal and PR department hurdles and internal political battles. This could be a key consideration if you're at a big monolithic corporation.
Realize though that, with a microsite, you're giving up something. Content that is integrated into your main site will get to "ride on the coattails" of the trust, authority, age, history, etc. that your site has established over the years. Whereas a microsite on a brand new domain may wallow in the Google Sandbox for months.
So what to do if you want to launch a microsite? Consider buying an aged domain "aftermarket"—hopefully one that has had a site on it for a while (and no, a parking page doesn't count!), then change the domain registration information slowly so that the site's PageRank doesn't get reset to zero. Or start the clock running as soon as possible on your new domain by posting at least a few pages to the URL and then getting a few links to it—as far as advance of the official launch as possible.
I'm partial to using WordPress as the content management system (CMS) for microsites, because of its support for such powerful features as tag clouds, tag pages, Technorati tags, RSS feeds, podcasts, pings, comments, trackbacks, etc. Refer to my WordPress as a CMS post for detailed reasoning behind this recommendation. If you go with WordPress, be sure to install my SEO Title Tag plugin so that you can craft longer, custom-written title tags that are separate from the "Titles" used in anchor text and H1 tags.
Comments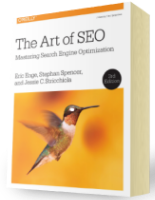 Chapter 7:
Content Marketing
From the fundamentals of link building to the nuances of natural linking patterns, virality, and authority.
Get Free Chapter