The death of the pop-up
Seems like just about every toolbar out there includes a popup blocker (e.g. Google Toolbar, Yahoo Companion Toolbar). Plus, many web browsers are offering this capability built in. In addition, there's antivirus / personal firewall security software like Norton Internet Security that blocks pop-ups (heck, Norton is so overly zealous, it strips out referrers so web marketers can't tell where their traffic came from!).
Furthermore, don't count on content within a pop-up getting indexed in the search engines. That's because pop-ups rely on JavaScript — a roadblock to search engine spiders.
The short of it is, my advice is this: stop using pop-ups.
Comments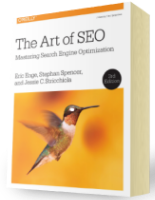 Chapter 7:
Content Marketing
From the fundamentals of link building to the nuances of natural linking patterns, virality, and authority.
Get Free Chapter