Sticky blogs work best
Stickiness is a primary goal for most websites. A site that is sticky gets people coming back again and again, and staying longer too.
It is easier to build a relationship and engage your reader if your site is sticky. My blog's reasonably sticky because the author is so good and has such insightful things to say. 😉
But seriously though, there are things you can do to engage your readers in some of the dialog. For instance, you can form a community where they are all talking to each other — most blogs are really abysmal at that. Even my blog really doesn't do a very good job of bringing readers together and getting them to talk to each other.
So how do you get off your soapbox as a blogger and start conversations without finishing them, and let your readers take over?
Performancing has a nice list of practical things you can do to build online community of your blog:
Design for repeat visits
Keep advertising minimal for repeats
Provide a recent posts list
Answer your comments
Use the right language
Post frequently
Have a private message system
Allow member posts
Include members in decisions
Don't neglect the distributed community
Comments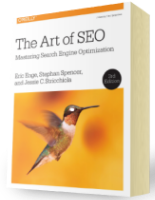 Chapter 7:
Content Marketing
From the fundamentals of link building to the nuances of natural linking patterns, virality, and authority.
Get Free Chapter