Speak the Customers Language
I decided to go on a virtual field trip through the corporate sites of the biggest companies in New Zealand. I'm amazed I stayed awake. You'd think by now corporates would have realised their online visitors don't want to read marketing-speak, testaments to the brand, letters from the chief executive or assorted press releases.
It's hard to tell who engaged high-priced marketing consultants and who turned to the online "BS Generator" tool for the smoke and mirrors. Apparently, Genesis Power is "partnering the community to provide innovative energy solutions". Baycorp Advantage is "committed to assisting companies worldwide to liberate their potential and maximise their returns". Zespri is "grown in partnership with nature". TelstraClear is going to "champion competition and deliver the benefits to your doorstep", while Ceritas fancies it "creates innovative application and support solutions".
If you are sick of websites full of meaningless blather, your customers probably are, too. So do something about it. First, run the "BS Detector" over your website to check for marketing-speak. Then deploy and action these tips:
Convert your online visitors into customers by inviting them to act. Every page should have a clear call to action to get your visitors to take the next step.
Cut to the chase. People scan web pages, they don't read them, and they read at least 30% slower off the screen than off paper. Use active verbs rather than passive ones. It saves words and is more persuasive.
Use "you" and "your" at least five times more than "we" and "our". Your customers are interested in what's in it for them. Meridian Energy's homepage has 17 instances of "we", "our", and "us" but only two of "you" and "your". I can't see a customer reading this testament to the company's ego.
Don't over-hype. Avoid exclamation marks and words like "premier", "leading" and "cutting-edge". In other words, keep it real. Frucor shouts from its homepage: "A market leader driven by a thirst for success." Please.
Search engines are your audience as much as humans, so incorporate lots of good keywords into your copy. Pick keywords that are not only relevant but also popular with search engine users. New Zealand Post's homepage is comprised solely of images – not much for search engines to work with. Put the keywords near the top of the page, such as in the first sentence. Don't waste this prime space with "Welcome to our Home Page".
Still not satisfied with your website? Check out Net words: Creating High Impact Online Copy by Nick Usborne and Guide to Killer Copywriting by Debbie Weil, a downloadable e-book that's free when you subscribe to Debbie's free email newsletter.
By Stephan Spencer. This article first appeared on Unlimited in December 2002.
Comments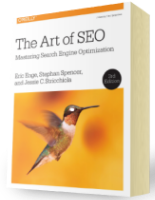 Chapter 7:
Content Marketing
From the fundamentals of link building to the nuances of natural linking patterns, virality, and authority.
Get Free Chapter