Spam, Spam, Not Spam
Email can be your company's secret weapon, or it can end up biting you in the backside if it's seen as junk email or spam. It all depends on the execution. So says Debbie Mayo-Smith, email marketing consultant and author of the new book Successful Email Marketing: Your Complete How-to Guide. She's seen New Zealand companies make deadly email mistakes, like listing their entire customer list in the "cc" line or flooding recipients' in boxes with thousands of copies of the same message.
But the book also contains examples of New Zealand companies getting good results from email marketing campaigns. For example, a Bank of New Zealand email campaign soliciting credit card applications got a 9% response rate (the same as a direct marketing campaign sent at the same time), but the email campaign used only 15% of the budget . At the other end of the size scale, Mayo-Smith's local garage significantly increased warrant-of-fitness turnover just by asking customers for their email addresses and then sending out reminder emails. There are some ground rules for good email marketing. Try these:
Get permission. Don't buy or rent lists of email addresses. Include simple unsubscribe instructions, then abide by users' wishes if they opt-out.
Work at your subject line. It should have a good call to action or value proposition. Use the subject line to satisfy the recipients' needs and appeal to their interests. Consider including their first name.
Make it easy: easy to unsubscribe, to offer feedback or to place an order by phone, email or online. Make sure if recipients hit "Reply", it doesn't come straight back to them marked "Undeliverable".
Distance yourself from spammers, weasels selling weight loss and Nigerian scam merchants. Put your name or your company's name in the 'From' line, not 'Here it is' or '[email protected]'. Sign your email with a real person's name. Address it to the person you want to receive it, not to 'undisclosed recipients'.
Write compelling copy. Make the email short and sweet so that it can be scanned easily. Make judicious use of links, including one to your privacy policy page (you do have one, don't you?) where you reassure subscribers you won't share their details with third parties. Make the message look good: a poorly designed email begets poor results.
Track everything: click-through rates, unsubscribe rates, bounce rates, "open" rates (meaning that they viewed your email) and, most importantly, conversion rates, where you've successfully converted recipients into customers.
Test, test, test! Test the offer, the "Subject" line, the "From" line, the message copy, the layout, the message length, the timing and the contact frequency. Set up a control group and experimental groups, where you vary just one element per group. Pay particular attention to the contact frequency, particularly if it's a regular mailing like an email newsletter.
Stephan Spencer is founder/president of Netconcepts, a Madison, WI-based Web marketing agency that offers search optimization services.
This article first appeared on Unlimited in June 2002.
Comments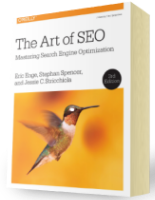 Chapter 7:
Content Marketing
From the fundamentals of link building to the nuances of natural linking patterns, virality, and authority.
Get Free Chapter