Partnered with Netconcepts for SEO success
"Seton has partnered with Netconcepts for more than six years. Over this time they have provided many services, from web design, to a site audit and consulting on SEO and SEM. Most recently they provided a GravityStream version of seton.com that helped us maintain our search engine presence over the past year, during which we redesigned seton.com and optimized our site internally. The GravityStream project resulted in a significant number of new visitors who otherwise would not have found us. The GravityStream site in fact was one of our top referrers. The ROI for this project was clearly there.
I recommend this process and Netconcepts to any web marketer who cannot prioritize resources to search engine optimize internally. Even if you can technically optimize with internal resources, I recommend using Netconcepts as a consultant and partner for best results. They have never steered us wrong!"
Wendy Brewer
E-Business Manager
Seton Identification Products
Comments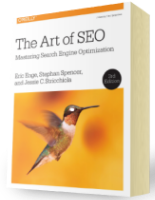 Chapter 7:
Content Marketing
From the fundamentals of link building to the nuances of natural linking patterns, virality, and authority.
Get Free Chapter