SEO Site Analysis: Knowing the Score, Part 4
"If you've been keeping track of this series, you're well on your way to crafting a strategic SEO plan for your Web site," writes Patricia Fusco, lead strategist for Netconcepts. The last article in this informative and enticing series, SEO Site Analysis: Knowing the Score, Part 4 helps us tie key concepts together from the knowledge we've gained, in order to recognize trends and patterns. Patricia also takes our assessments a step further, by encouraging us to create practical "action plans" to improve our website's SEO, based on our instruction from the previous articles in this series.
Read the article here, and determine how you can implement intelligent changes on your website after following Patricia's step-by-step process.
Comments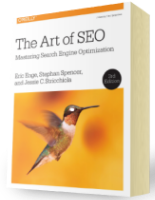 Chapter 7:
Content Marketing
From the fundamentals of link building to the nuances of natural linking patterns, virality, and authority.
Get Free Chapter