SEO Site Analysis: Knowing the Score, Part 2
In Part One of SEO Site Analysis: Knowing the Score, Patricia Fusco, lead strategist for Netconcepts, taught us how to benchmark our website's overall quality using the tools that we have at our disposal.
For this segment, we are guided through a deeper process to help us understand how a user or a search engine spider navigates through our website. By awarding points for things as simple as navigation bars, to understanding how different templates might affect your site, Patricia teaches us the next level of understanding your website's quality related to users and to search.
Read the article here, and enhance your ability to assess your website.
Comments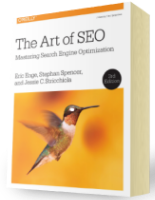 Chapter 7:
Content Marketing
From the fundamentals of link building to the nuances of natural linking patterns, virality, and authority.
Get Free Chapter