SEO Report Card: As-Seen-on-TV-Store-1.com
Even though I've received dozens of requests for site gradings, this month I've decided to pick a site that didn't ask for it. Why? Because this month I'm going to air some poor, unsuspecting black-hat SEO's dirty laundry in order that you might learn from their mistakes and indiscretions, rather than subject a loyal Practical eCommerce reader to potential intense and unwanted scrutiny by search engine reps reading this article. There are so many sites out there committing search engine sins, it was really hard to settle on one. In the end I decided, quite randomly, to pick a sophisticated black hatter that I found occupying a spot in the first page in Google for "ionic breeze," a popular product from The Sharper Image (a past client of Netconcepts, my SEO agency).
At first glance, what www.As-Seen-on-TV-Store-1.com is doing appears to be working. After all, they are eighth out of 1,360,000 results in Google for "ionic breeze" — the main search term that they've targeted. But it's a house of cards ready to fall. Letâ??s see why:
As you know from my past articles, inbound links and link text are of supreme importance to SEO. And these guys have it in spades. Yahoo! Site Explorer reveals over 6,500 inlinks to the site, excluding internal links. These links include some very reputable sites, such as unesco.org/wfeo. Often the link text is great too — full of keywords. But the linking sites aren't relevant. Upon closer inspection, the links have been obtained by duping webmasters into posting a hit counter (e.g., from freestatscounter.com, freehitcounters.net, etc.) that contains links to doorway pages.
They operate numerous other similar-looking sites at other domains (e.g., asseen-on-tv-top-products.com) that cleverly interlink with each other and transfer PageRank back and forth. Bear in mind, however, that the search engines have a comprehensive link map of the indexable web, so they are capable of connecting the dots and bringing down the entire interlinking network of spam sites.
They've posted bogus feedback to guestbooks of unsuspecting websites (e.g., on www.farmcatalog.com/Guestbook/guestbook.html and www.sanresina.com/guestlog.htm).
They have links coming in from link farms (e.g., linkarcade.com).
They've created spam blogs — also known as "splogs," (e.g., http://aboutasseenontvdoggysteps.blogspot.com/ and http://whoasseenontvdoggysteps.blogspot.com/) and crammed them full of spamglish like: "His sedan chair ached, his As seen on tv Doggy Steps creaked, his senses transfigured with the As seen on tv Doggy Steps, the mind-agony, the horror of it all."
A third of the site's pages in Google's index (i.e., 20 of the 60 pages) are relegated to the "Supplemental Index" (referred to affectionately as "Supplemental Hell" by SEOs). Pages in the Supplemental Index aren't trusted very much, aren't crawled very frequently and are included much lower in the search results for all but obscure queries. This is an indication that Google has already deemed some of the site to be duplicate content or doorway pages that have lost link popularity.
Many URLs contain an excessive number of hyphens. This looks suspect and can be construed as a form of keyword stuffing. Consider, for example, that there are eight hyphens in www.as-seen-on-tv-store-1.com/doggy-steps-double-deluxe.asp.
There's so much repetition of the phrase "ionic breeze" in the HTML of the home page that it appears unnatural. I counted the phrase 35 times in Alt attributes, Meta tags, etc.
Very little of the content on the home page (all of the product description copy) is original content. Much of it is taken from The Sharper Image's website and also appears on the sites of dozens of affiliates and resellers, including Amazon.com and Shop.com.
Comments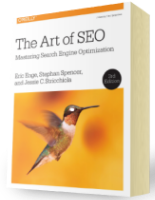 Chapter 7:
Content Marketing
From the fundamentals of link building to the nuances of natural linking patterns, virality, and authority.
Get Free Chapter