SEO Report Card: The Google Death Sentence
Seasonal online businesses, like Gifts By Delivery, have it tough. During most of the year, they live lean while sales slow to a trickle. Then autumn comes and the manna begins to rain down from heaven.
For Gifts By Delivery, the ramp-up begins in early October. The fourth quarter last year brought in 65 percent of the company's annual revenue. It makes the most of this time, doing everything it can to maximize sales with advertising and marketing. That's because Gifts By Delivery knows the inevitable dip and flattening of the revenue line is right around the corner, in the New Year.
Competing for organic search visibility during the holiday shopping season requires a ramp-up in online marketing â?? namely, link building and link baiting â?? many months in advance. It should start now, in fact.
Giftsbydelivery.com's main SEO weakness lies in its links. A lack of link importance really holds the site back. The site's home page PageRank score is only four and as you click deeper into the site, it quickly degrades even further. In fact, most pages have a PageRank of zero.
Furthermore, a link:www.giftsbydelivery.com search on Google shows only 25 backlinks and that's including internal links to the company's own site. It's true that Google only reports a sampling of the back links; even so, it's a dismal showing.
More telling is the fact that nearly all of Giftsbydelivery.com's pages are in Google's dreaded "Supplemental Index." These pages clearly lack the link importance required to earn them a place in Google's main index. Even though Googlers (that's what Google employees call themselves) argue to the contrary, having all your site's listings labeled "Supplemental Results" is like a Google death sentence.
Not surprisingly, I found the site's Google rankings to be quite poor. For important keywords like "wine gift baskets," "gift baskets," "fresh fruit baskets," "food gift baskets" and "gourmet gift baskets," Giftsbydelivery.com did not show up in the first five pages of Google results. It's obvious that something in the company's SEO is broken.
Gifts By Delivery embarked upon a link-building program about a year and half ago, but it wasn't a good program. It probably did more harm than good. When the site's owners realized the quality wasn't there, they opted to cancel the program.
Garnering good links takes time and expertise. And then it takes more time before the PageRank benefit from those links really kicks in. Now is the time to enlist the help of a link building expert to identify link targets, request links, make directory submissions, distribute search engine optimized press releases, formulate "link-bait" campaigns and so on.
Throughout all this, it's necessary to remember that the anchor text of the links is crucially important. It's no accident that the majority of the sites on the first page in Google for "gift baskets" have the phrase "gift baskets" in the domain name. Sites like Gourmetgiftbaskets.com, Adorablegiftsbaskets.com, DesignItyourselfgiftbaskets.com, Winecountrygiftbaskets.com and others easily acquire links with the phrase "gift baskets" in the anchor text. After all, it's part of their names! Somehow, Gifts by Delivery must compensate for this disadvantage.
Overall, the on-page SEO was in pretty decent shape.
URLs of category pages and product pages are search engine optimal â?? keyword-rich, free of stop characters, set up with a flat directory structure with minimal slashes and with hyphens separating the keywords (rather than underscores, which are bad).
There's a 301 redirect from giftsbydelivery.com to www.giftsbydelivery.com, applied site-wide (not just on the home page), eliminating a duplicate web site in the search engines. Nice!
Title tags on product pages lead with the product name, not the name of the site â?? which shows an understanding of keyword prominence. Some category page titles (e.g., gourmet.html) are keyword-stuffed.
The meta descriptions and meta keywords are unique to each page, which is good, though at more than 50 words, some of the meta descriptions are too long. I recommend the site reduce the length in each case by half.
The H1 tag on the home page is "Let us reach across the miles for you" â?? no good keywords there. The category name is marked up with an H1 on category pages, and the product name with an H2 on product pages. That's good, but for some bizarre reason many product pages carry an H1 tag with nothing but an HTML comment.
Speaking of comments, I see a plethora of HTML comments in the templates that could be removed to streamline the HTML code.
Comments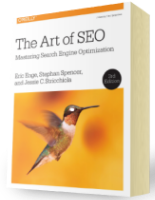 Chapter 7:
Content Marketing
From the fundamentals of link building to the nuances of natural linking patterns, virality, and authority.
Get Free Chapter