SEO reading
Q: What books would you suggest I begin reading to get a better idea of optimizing a site?
A: I wouldn't pick up a book for SEO. At least I haven't yet found an SEO book that stands the test of time. Print is too remote a medium from the Internet – ideas expressed in the book could be outdated before the book is published. Plus, it's a single view, isolated from the rest of the community of experts.
Instead, I'd suggest getting up to speed by immersing yourself in a few online communities, such as: Webmasterworld.com, Searchengineforums.com, and HighRankings.com/forum. But be careful, because there's a lot of wrong advice as well as good advice.
I can also suggest some a few articles on SEO by Brian and myself:
The Ruby Slippers of Search
(http://catalogagemag.com/ar/marketing_ruby_slippers_search/)
The Invisible Edge
(http://searchenginesinfo.com/ar/marketing_invisible_edge/)
The Search Is Onâ?¦
(http://catalogagemag.com/ar/marketing_search/)
There actually is one e-book I would recommend: Search Engine Marketing: The Essential Best Practice Guide by Mike Grehan, available online at http://www.search-engine-book.co.uk.
Comments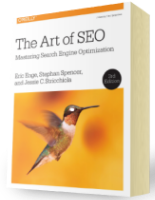 Chapter 7:
Content Marketing
From the fundamentals of link building to the nuances of natural linking patterns, virality, and authority.
Get Free Chapter