Hiring experts brought results
"I attended a Google workshop that Stephan Spencer conducted nearly a year before Netconcepts ever did any work with SecureWorks. I walked out of the workshop with a better understanding of what SEO was, and some hints on how our marketing staff could optimize our website for search. But the biggest thing I learned from the workshop was that we shouldn't do it ourselves. If you want results, then you hire experts and that's what we did.
At first we were concerned that we wouldn't get the ROI that would keep the CFO signing checks. After 90 days, we knew that justifying the cost would be no problem. We dominated our competitors on key search terms our industry and inquiries from our website shot through the roof.
My job is to make my boss look good, and when SecureWorks hired Netconcepts for SEO I expected them to make me look good – and they definitely did."
Nathan McNabb
Marketing Manager
SecureWorks
Comments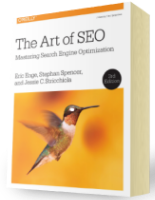 Chapter 7:
Content Marketing
From the fundamentals of link building to the nuances of natural linking patterns, virality, and authority.
Get Free Chapter