Podcasting, pirate radio for businesses
Ever since I discovered the wonderful ITConversations.com, I have become a real fan of podcasting. Podcasting is a way of delivering audio files to your PC and then to your MP3 player (e.g. your iPod) whenever they are updated — automatically at night while you sleep. Although podcasting is quite new, there are already episodic radio shows being made for delivery via podcast. It's amazing the quality of some of the audio commentary being published out there on the web, free for the taking. Bloggers are really the driving force of podcasting right now. On the commute into the office they make a recording of themselves and post it onto their blog. The BBC really legitimized podcasting by delivering the series "In Our Time" via podcast. With plans to put all of the BBC's radio archives online and to continue to deliver new shows online, it is possible we will see thousands of classic BBC radio shows podcast. It's great to see a traditional broadcaster right at the cutting edge of technology!
I love the way that podcasting democratizes radio broadcasting. Literally anyone can do it — even me! It takes a bit of fiddling to get the right setup in place for good quality audio recording — particularly when there's someone on the other end of a phone to interview — but I've finally nailed it.
I conducting my first successful podcast interview today. I phone interviewed Marc Holland, CEO of Sky Radio Networks. I'm not going to put it online yet, as the podcast is supposed to be released in conjunction with the publication of my upcoming MarketingProfs article on podcasting (due out within the next week or two). I will post here to my blog once the article and the podcast interviews are online.
You may wonder why I selected Sky Radio as my first interviewee. Well, while I was writing my podcasting article for MarketingProfs, it occurred to me that podcasting would be an obvious next evolution in Sky Radio's business model. Sky Radio is the exclusive producer of the in-flight business audio programming on many of the major domestic airlines. They're the folks you hear on the business channel when you fly United, for instance. I think their interviews would be fantastic material to make available on a podcast RSS format, as sometimes you don't get to listen to all the shows or you want to recall something you heard half asleep 30,000 feet up. Podcasting would allow business execs who don't even fly to regularly partake in these audio interviews as they become available. If Sky Radio developed a strong listener base and online distribution channel for the podcasts, then they could charge for this just like they charge for having professionally-produced interviews distributed to air travelers.
I've lined up some more great podcast interviews, so there will be lots to come! As they say in broadcasting, "Stay tuned!"
Comments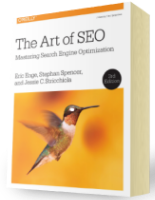 Chapter 7:
Content Marketing
From the fundamentals of link building to the nuances of natural linking patterns, virality, and authority.
Get Free Chapter