Personalized, Universal and Optimized
In this article from ClickZ, P.J. Fusco comments on the words "Personalized Search" and how they relate to "Universal Search." P.J. writes a powerful message by saying, "With an ever-evolving pattern of relevant search results, the long-standing futurist mantra has changed. It's no longer enough to think locally and act globally." Find out more about how you can stay on top of personalized search for your company. Click here to read the article.
Comments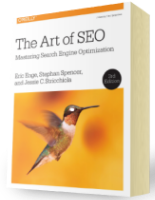 Chapter 7:
Content Marketing
From the fundamentals of link building to the nuances of natural linking patterns, virality, and authority.
Get Free Chapter