Permission Marketing
Building a trusting relationship with your Web site visitors starts with the common sense approach known as "permission marketing." The idea behind permission marketing is to get the customer or prospect to volunteer to receive your email newsletters and special offers. This is also known as opt-in. These "hand-raisers" are a lot more likely to not only tolerate receiving your emails, but also to respond favorably to them.
On the other side of the coin is opt-out, where the recipient doesn't have the opportunity to avoid receiving your first email, only to avoid receiving subsequent emails from you. Respect your recipients' boundaries and stick with opt-in, not opt-out.
Avoid the use of purchased lists. Many of the lists available for purchase have actually been "harvested" from web pages, newsgroup discussion posts, or domain contact information (from the "whois" database) – without the knowledge or permission of the affected individuals. On the other hand, rented lists from reputable list brokers may be worthwhile, if the list is double opt-in, fastidiously clean of unsubscribes, and finely segmented.
You can improve the odds that a user will join your list by providing numerous opt-in opportunities all with low barriers to entry. Make sure the amount of work required to sign-up is minimal. Many sites in fact only require the email address and all other personal information is optional. Place the email list sign-up on all forms on your site, including inquiry, order, and feedback forms.
On these forms, you may be tempted to have the "would you like to receive occasional special offers/newsletter via email" checkbox already checked. Checking the box by default is considered by some to be deceptive. I believe it is within ethical limits, since it still presents the prospect with the choice before they ever receive an email from you. Just make absolutely sure that this question and the checkbox are placed conspicuously on the form.
Build trust with these hand-raisers by posting a privacy policy in an obvious place. Of course this means that you will have to abide by it, with no exceptions! The privacy policy should address what you'll be doing with the user's information, both now and potentially in the future. Don't think for a minute that you can revoke or weaken a privacy policy once you've already published it on your site, or you may end up on the wrong side of a lawsuit!
Once the hand-raisers have received your email, you'll want to ensure that they don't misconstrue your message as "spam" – also known as UCE or Unsolicited Commercial Email – and thus awaken the wrath of Internet vigilantes. In most respects, spam is – by its very nature – bogus. Typical spam has a bogus sender address, bogus unsubscribe instructions, and bogus offers.
Distance yourself from spammers by:
having the email signed by a real person with real contact information
making sure the Reply works
reminding the recipients that they've given you permission to contact them, and
providing an easy and legitimate way to unsubscribe.
This is not something to get wrong. Internet users can be downright fanatical about hunting down and punishing people who send them spam. If you are unfortunate enough to be labeled a spammer by these folks, they will come after you with unrelenting fervor, as if they have a personal vendetta against you. You could expect to receive "flames," i.e. hate email. You may be submitted to various online blacklists of Internet advertisers. You may even have your Internet privileges revoked by your ISP.
To learn more about permission marketing, you can turn to the excellent primer Permission Marketing: Turning Strangers into Friends, and Friends into Customers
Comments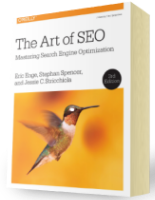 Chapter 7:
Content Marketing
From the fundamentals of link building to the nuances of natural linking patterns, virality, and authority.
Get Free Chapter