Performics and Netconcepts Unlock Hidden Content
CHICAGO – April 12, 2004 – Performics, a leading performance-based online marketing services and technology company, and Netconcepts, an innovative Web development firm that specializes in search engine optimized e-commerce, today announced an exclusive partnership that enables Performics' clients to quickly transform their dynamic, e-commerce sites into "crawler-friendly" pages for natural search.
"Our approach to comprehensive search engine marketing centers around the marriage of technology, expertise and service to optimize results for clients," said James Crouthamel, president and CEO of Performics. "By partnering with Netconcepts, we combine our technology platform with their leading solution for natural search optimization [GravityStream] to deliver a fast, measurable lift in search traffic for our clients."
Performics provides comprehensive search engine marketing services, assisting clients with their paid placement, paid inclusion, and a now enhanced natural search solution. All services will be delivered through Performics' technology platform, ConnectCommerceSM, which enables real-time ROI tracking and reporting, as well as dynamic keyword and bid management technology. Netconcepts' GravityStream technology has been integrated with ConnectCommerce, providing clients with a Google friendly solution that creates full transparency for natural search results.
"The first rule of natural search optimization is to increase your site's 'crawlability' for the engines and to do so in a manner consistent with the engines' guidelines and policies," said Jody Hartwig, CEO of Netconcepts. "With this partnership, Performics' clients can unlock database-driven web content previously hidden from search engine crawlers."
The implementation is simple, straightforward and does not require heavy reliance on a marketer's technology department. The solution has already delivered tremendous results in sales and new customer acquisition for Northern Tool, a leading multi-channel marketer.
"We simply set up a sub-domain, added a link to our home page and waited for the engines to crawl us," says Northern Tool Ecommerce Marketing Manager Nathan Miller. "The results from this simple solution have been so impressive we are in the process of aggressively optimizing for natural search. With 81 percent of the buyers being new to our customer file, we want to make the most of this giant acquisition opportunity in 2004."
Clients can now turn to Performics for a fully trackable, natural search technology solution that can be combined with site-side consultation services for the optimal outcome.
About Performics
Performics provides performance-based online marketing services and technologies for leading multi-channel marketers. Clients benefit from Performics' custom approach to affiliate marketing, search engine marketing and lead generation programs. The company's proprietary tracking and reporting technology platform, advanced market expertise, and active account management enable clients to acquire and reacquire online customers. Performics' interests are squarely aligned financially and strategically with clients and distribution partners through its pay-for-performance model. Performics' 200-plus clients include: America Online, Bose, Eddie Bauer, HP Shopping, Kohl's, L.L.Bean, Motorola, Northern Tool, Target and Williams-Sonoma. Performics is the only recognized industry leader providing both Affiliate Marketing Services and Search Engine Marketing.
About Netconcepts
Netconcepts is a web development and consulting company specializing in search engine optimized e-commerce websites and offering advice on all aspects of e-business and website development. Netconcepts has been helping companies exploit commerce opportunities online since 1995. Committed to offering clients innovative solutions and proactive service, the company adopts the role of technology partner, offering a comprehensive range of e-business services designed around clients' individual e-business goals.
Netconcepts' clients include: Infospace Inc., Homestead Technologies, MP3.com, Midwest Airlines, The American Marketing Association, Giftcertificates.com, Gorton's, Mathworks, Wella, Cabela's, Northern Tool, Sara Lee Direct and The Sharper Image.
Comments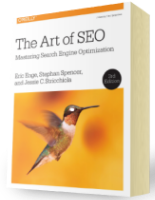 Chapter 7:
Content Marketing
From the fundamentals of link building to the nuances of natural linking patterns, virality, and authority.
Get Free Chapter