Partnering up has its advantages
Have you considered incorporating content partners and marketing partners into your online strategy? For example, partnering with content providers who could augment your own content with additional related content? Or partering with sites whose visitors match your target market?… If, for example, you wanted to reach women online, you could partner with a site like iVillage.com and build a microsite together, then have them promote it through their site and subscription lists.
Think about the sites you advertise on as potential partners. Join forces and create a microsite together and then promote it to a joint captive audience. Or make a deal with them and syndicate some useful content onto their site. For example, you could develop a whole library of useful tips and, rather than doing standard banner ads, you could provide these tips to your partner, who would then fold it with the rest of their content. Et voila!… "Sponsored content"!
Even better if, between the two of you, you can develop some sort of "hook" or viral component, such as a funny video, an addictive game, a downloadable ebook, worksheet, calculator, widget, etc…
Got an example to share of a site where the whole is greater than the sum of the partners? Post a comment!
Comments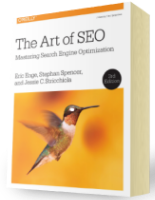 Chapter 7:
Content Marketing
From the fundamentals of link building to the nuances of natural linking patterns, virality, and authority.
Get Free Chapter