Optimizing your content for more Google AdSense revenue
Optimizing your site for higher search engine rankings is an obvious activity for anyone with a website. Optimizing your site for higher conversion rates is another obvious one. But how about optimizing for higher advertising revenue — specifically, a bigger check from Google for the AdSense ads that you display on your site.
Consider for example if you had a website on redecorating for Do-It-Yourselfers. You might have a page all about "housepainting." But, as described in this article in USA Today about webmasters making money off of AdSense, "housepainting" isn't a great money term for AdSense revenue — it's only a 20-cent word. "Home improvement," on the other hand, is worth $2. That's a $1.80 difference.
So in effect you can give yourself a nice pay increase just by changing the keyword themes of your pages that display AdSense ads by creating new content pages around those keywords. And the real opportunists out there are creating pages about mesothelioma, a rare form of cancer caused by asbestos that lawyers are bidding on. That keyword is worth an order of magnitude more than "home improvement." But that would be sooo dirty! Thankfully I don't know anyone THAT dirty!
Comments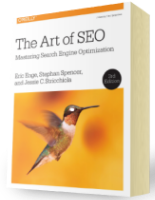 Chapter 7:
Content Marketing
From the fundamentals of link building to the nuances of natural linking patterns, virality, and authority.
Get Free Chapter