Online retailer and first-time attendee reflects on Shop.org
Steve Spangler of SteveSpanglerScience.com leapt in — boots and all! First time attendee and speaker on my panel "What Happened when eTailers dove into Blogs, Podcasting and RSS" at Shop.org in Las Vegas last week, Steve didn't let the thought of mingling with billion dollar online retailers intimidate him. And he has a message for all those more modest online retailers — be there next year! His head still hurts, because there was so much to learn.
Steve says:
There was so much information that I filled an entire reporter's notebook. And I also asked myself: "How is it that we are surrounded by people who are so smart?" In a culture where the Internet is changing so quickly, and everybody has got their different spin on what's happening, I realized there were 1500 people there, 1499 of whom knew more than I did about on-line retail.

To get to have breakfast with the Internet Marketing Director of Best Buy, or the guy from CNET, or Amazon.com, these people were willing to share their best practices in an open and frank way. I learned how to increase clickthrough rates. Conversion rates. Landing pages. I was overwhelmed by what people were willing to share with us. What was so refreshing was that the major players were extremely honest with one another as well!

There is no magic bullet, nor one thing that anybody can do to make their website search better look to their customers. A website is a living breathing being. You have to feed it, nurture and care for it. Just like raising kids. We are all excited when a child is born, and then it grows and we get into the serious business of parenting.

Walking the exhibit hall for the first time in my life, I visited a booth called BillMeLater. They offer a great service, but don't take on any company doing less than $15 million in on-line retail. We're a little smaller than that! But it certainly was eye opening.

From the standpoint of finding out what a landing page was, and what caused people to stay on that page – that was the best takeaway from the whole conference. We were in the process of doing a product page redesign, and what I took away from that session changed what we put on that page. What would be the #1 factor on that page? Price? Shipping? Trust? Answer: Free shipping ?Ĭ or some form of shipping discount. An orange "free shipping!" logo or box drew the greater conversion rate. The key is to get people to put their credit card in and drive those sales.

Kelly Mooney's "Gender Agenda" session provided a great insight into website viewing habits. The guys tend to stay predominantly on one site, 3 or 4 clicks just to compare prices. To women, however, it is an incredibly enjoyable experience, many taking 20 minutes to browse for products other than their initial reason for visiting. That sort of information is important to an on-line retailer. I have got a lot of work ahead of me.

As for my own panel presentation with Stephan, I looked out at that audience and saw people from those huge billion dollar retailers thinking that this blogging lark could be something we are going to have to explore.
Listen to my podcast interview with Steve after Shop.org for his full and frank views on this remarkable event. And take on board his recommendation: Be There Next Year!
Comments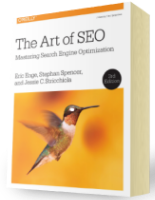 Chapter 7:
Content Marketing
From the fundamentals of link building to the nuances of natural linking patterns, virality, and authority.
Get Free Chapter