Grasping the Long Tail
In an interview with Rebecca Macfie, writer for "The Business" supplement to the New Zealand Herald, Netconcepts president Stephan Spencer says the Long Tail is crucial for companies with big inventories. It's an SEO tactic that enables them to draw customers to their websites and find products that may otherwise be buried in catalogues. But much may not change for small businesses with low quality products. Googling "organic jam" will still likely take you direct to the "big box" retailer in the SEO rankings, because these retailers command so much more importance score (e.g. PageRank).
Comments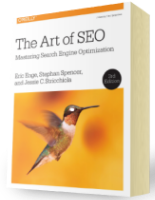 Chapter 7:
Content Marketing
From the fundamentals of link building to the nuances of natural linking patterns, virality, and authority.
Get Free Chapter